Venice titles and award-winners from Cannes, Berlin and Sundance included in Pearls strand.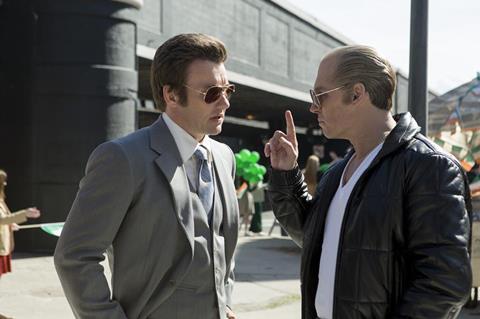 The 63rd San Sebastian Festival (Sept 18-26) has unveiled the titles that will make up its Pearls section and compete for audience awards worth nearly $80,000.
The line-up comprises some the best of the year's festivals to date as well as titles set for Venice and Toronto.
Scott Cooper's mob drama Black Mass, starring Johnny Depp; Charlie Kaufman's animated Anomalisa; and Pablo Trapero's sinister drama The Clan will screen at San Sebastian following their premieres at Venice.
Cannes winners in the Pearls strand include Laszlo Nemes' Holocaust drama Son of Saul, which won the Grand Prix; Nanni Moretti's Mia Madre, winner of the Ecumenical Jury prize; The Assassin, which won Hou Hsiao-Hsien best director; and Arnaud Desplechin's My Golden Days, which won the SACD Prize at Directors' Fortnight.
Other Cannes titles added to the San Sebastian line-up include Kent Jones' documentary Hitchcock/Truffaut, Jia Zhang-ke's Mountains May Depart, Denis Villeneuve's drug war thriller Sicario, and Hirokazu Kore-eda's family drama Our Little Sister.
Jafar Pahani's Taxi Teheran, winner of the Golden Bear at this year's Berlinale, and Alfonso Gómez-Rejón's Me and Earl and the Dying Girl, winner of the Grand Jury Prize and Audience Award at Sundance, will also play in the Pearls strand.
The films will compete for the Audience Award, decided according to the votes cast by attendees of the first public screening of each film in the section.
The Audience Award comes with two prizes: a First Prize of $56,000 (€50,000) for the Best Film and a Second Prize of $22,000 (€20,000) for the Best European Film. The Audience Award goes to the distributor of the film in Spain.
Woody Allen's new film, Irrational Man, will be screened out of competition in the section.
San Sebastian: Pearls
Anomalisa, Charlie Kaufman, Duke Johnson (US)
Black Mass, Scott Cooper (US)
The Clan (El Clan), Pablo Trapero (Arg-Spa)
Hitchcock / Truffaut, Kent Jones (Fra-US)
Me And Earl And The Dying Girl, Alfonso Gómez-Rejón (US)
Mia Madre, Nanni Moretti (Ita-Fra-Ger)
The Assassin (Nie Yinniang), Hou Hsiao-Hsien (Tai)
Son Of Saul (Saul Fia), László Nemes (Hungary)
Mountains May Depart (Shan He Gu Ren), Jia Zhang-Ke (Chi-Fra-Jap)
Sicario, Denis Villeneuve (US)
Taxi Téhéran, Jafar Panahi (Iran)
My Golden Days (Trois Souvenirs De Ma Jeunesse), Arnaud Desplechin (France)
Our Little Sister (Umimachi Diary), Hirokazu Kore-Eda (Japan)
Irrational Man, Woody Allen (US) not in competition