The 14th edition of Film4 FrightFest wrapped on Monday with record-breaking attendance of 28,000. Screen reports from the five-day event.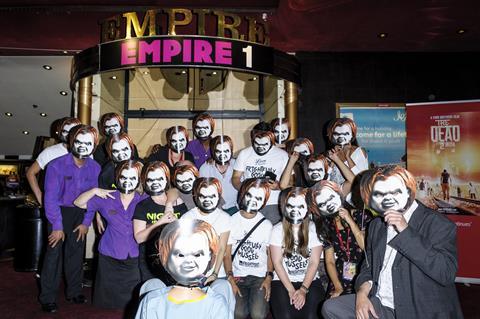 Responding purposefully to certain "samey" criticisms of last year's event, the 14th edition of Film4 FrightFest (Aug 22-26) delivered a diverse lineup with something for everyone… and not just necessarily horror fans.
Take its final day on Bank Holiday Monday, this year's standout day and one of the strongest main screen programmes in the festival's history.
Kicking off with the Marina De Van's startling horror Dark Touch, starring none other than Missy (daughter of Ronan) Keating, the day visited found footage scares (Blair Erickson's Banshee Chapter), supernatural fantasy (Stephen Sommers' Odd Thomas, one of the surprise hits of the festival) and arthouse drama (Jim Mickle's We Are What We Are reimagining), before ending on the politically charged dark revenge thriller Big Bad Wolves by Aharon Keshales and Navot Papushado.
Granted, if you were looking for your usual FrightFest fare, it was there to be discovered – Curse of Chucky, Hatchet III, Outpost: Rise of Spetsnaz to name but a few – but this year pleasingly felt like a festival so confident in its audience to know that they'd be happy to peek outside the box.
Full credit for that has to go to the festival co-directors Alan Jones, Paul McEvoy, Greg Day and Ian Rattray, all of whom (as per usual) were mingling with the FrightFesters, genuinely interested to know – for better or worse – what they were thought of this year's selection.
Discovery screens
It wasn't just the main screen that drew the crowds, with a host of sold-out screenings among the discovery screens. A limited amount of tickets for each discovery screen title are put aside for pass holders, and this year saw queues building two hours before the tickets were released.
Among the discovery screen successes, horror-comedy Stalled ended up having three screenings throughout the weekend, Bobcat Goldthwait's Willow Creek's Sunday night screening was upgraded to the considerably larger screen 2, and Adam Green held an hour-long Q&A after screening three episodes of Holliston.
Overall, a record-breaking 28,000 people attended over its five days, with 16 sold out screenings - including its opening film, the world premiere of The Dead 2: India [see separate story here] - marking another record for the festival.
Shorts
But like every year, it wasn't just the films that delivered the goods. Along with some terrific Turn Your Bloody Phone Off idents this year (showcasing a sharp line in self-deprecation), this year's shorts programme often threatened to outshine the film they preceded.
Narrowly taking the crown from Paul Davis' darkly inventive The Body was James Moran's sublime Crazy For You, both of which – incidentally – starred Hannah Tointon and both of which delivered on their premise. The former centres on a murderer who uses Halloween to transport his latest victim in plain sight, while the latter is a twisted rom-com about a serial killer who gets an unfortunate urge to kill whenever confronted with polka dots.
There was also a strong showing in the inaugural 666 Short Cuts To Hell competition, created by FrightFest and Movie Mogul, in association with Horror Channel. The overall winner of the £6,666 prize was Weronika Tofilska with her 6 Feet Under short involving a young woman and a corpse in the morgue. Tofilska will now have the opportunity to develop a horror short or feature idea under mentorship from Movie Mogul.
First looks
Exclusives weren't in short supply at this year's festival either with a first look at the highly promising 2000AD documentary Future Shock! and a two-minute tease of Jonathan Glazer's long-gestating and Venice and Toronto-bound Under the Skin before Sunday's screening of the tense In Fear.
One exclusive raised the roof on Saturday night though, providing one of the highlights of the festival. Having been teased throughout the day on Saturday, Gareth Evans showed up for the screening of V/H/S/2 with a first look at highly anticipated sequel The Raid 2: Berandal, set to be completed early next year.
In it, the clip introduced us to a new character - Hammer Girl, played by Julie Estelle - as she hunted down a target protected by a group of bodyguards on a moving train. Without spoiling too much, it involved two hammers, stunning choreography and a lot of blood.
(On a side note, the most-talked about festival event wasn't even film-related. Screen is a family publication, so all we can say is that it involved two people doing what McEvoy coined "the R.I.P.D. shuffle" on Saturday night…)
Empire screen 1
As well as providing a snapshot of genre films both present and upcoming, the festival even took part in a bit of history on Monday night.
With Empire screen 1 set to be refurbished, Big Bad Wolves proved to be the final film ever to be shown in the cinema's main screen, accompanied by Spinal Tap levels of sound as the screen went out in style.
On introducing the film, Jones confirmed that FrightFest would indeed be back in the Empire next year.
The changes will surely mean that it'll be back in a slightly tweaked layout than the one main screen, two discovery screen schedule but one thing's for sure: FrightFest is about so much more than just the screens it plays in.