Dir: Liz Garbus. US. 2011. 93mins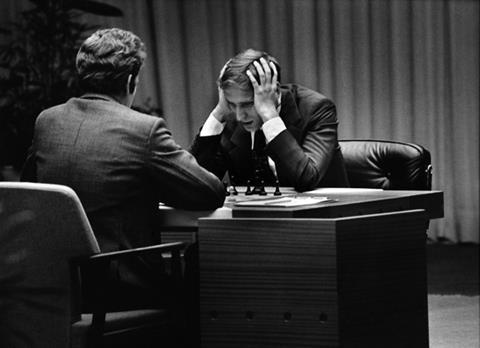 The fascinating and turbulent life of chess master Bobby Fischer is impressively documented in Liz Garbus's gripping film, tracking his solitary and obsessive early years as a child prodigy through to becoming world chess champion aged 29 and subsequent descent into paranoia.
As Henry Kissinger comments in the film: "It was good for democracy to have an American winner."
It is a strange and complex story of a brilliant but deeply troubled man, full of bizarre twists and turns and should prove an intriguing pick-up for niche distributors and TV channels. Whether chess is a big seller on screen is not clear – but this is a film about a tormented genius and is extremely watchable.
Hailed as a chess genius when still young, Fischer came from a difficult background. Mystery surrounded his real father and his mother paid little attention to him but supported his early obsession with chess and as a youth he became US champion.
Against the backdrop of the Cold War he become an unlikely hero for America. As Henry Kissinger comments in the film: "It was good for democracy to have an American winner." The media became obsessed with the prospect of a match between Fischer and the then chess world champion, Russian Boris Spassky.
After much haggling over details of the financial reward, the match was finally arranged in Reykjavik, and after some strange behaviour – odd moves and an upset about the cameras covering the match – Fischer goes on to win and be hailed the new world champion. As US chat show host Dick Cavatt comments about the attention the event received: "It was the superbowl!
But the victory is at a price. He hates the attention of the media, and despite declaring he wants to keep on playing competitive matches he becomes more reclusive, beginning to dabble in Christian fundamentalist religion and anti-Semitic conspiracies – despite the fact his mother was Jewish.
In 1992 he agreed to a re-match with Spassky – involving a hefty fee – in then Yugoslavia, contravening US sanctions on the country which was then in the middle of a war. He won the match but the US government issued an arrest warrant for him. He fled to Japan, and eventually was offered citizenship of Iceland as a way of escaping the warrant. He died there in 2008, a bitter and contrary man, still complaining about conspiracies against him.
Gorbus's film features an impressively broad range of interviews – from chess experts and politicians through to event organisers and family – though perhaps the most interesting is Life photographer Harry Benson, who photographed Fischer a great deal over the years and offers fascinating insights into the man in his quieter moments. A man of deep and brilliant obsessions and equally deep paranoia.
Production company: Moxie Firecracker, HBO Films, LM Media
International sales: Ealing Studios International, www.ealingstudios.com
Producers: Liz Garbus, Stanley Buchthal, Rory Kennedy, Matthew Justus
Executive producers: Dan Cogan, Nick Fraser, Maja Hoffman, Martin Pieper
Cinematography: Robert Chappell
Editors: Karen Schmeer, Michael Levine
Music: Philip Sheppard