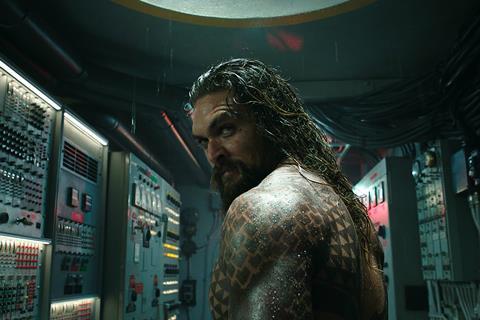 JANUARY 14 UPDATE: Aquaman crossed the $1bn global box office threshold at the weekend and became the second highest Warner Bros film of all time internationally on $733.6m.
PARAMOUNT PICTURES INTERNATIONAL
UPDATED: Meanwhile Paramount Pictures International's Transformers spin-off Bumblebee remained the international champion thanks to a $37.4m haul from 64 markets, resulting on an early $258.1m tally.
China delivered $26.4m to hold on to top spot and reach $107.3m after two weekends, while the UK generated $1.3m for $13.5m after three. The action adventure stands at $8.5m in France and $6.1m in Brazil after three weekends, $7.3m in both Australia and Germany, $11m in Mexico after four, and $1.9m in Colombia after two.
Comedy Instant Family used a $3.1m session in 15 markets to climb to $13.3m and opened in Australia in third place on $2.3m.
WARNER BROS PICTURES INTERNATIONAL
UPDATED: Aquaman generated $29.1m from 79 markets at the weekend and the global tally stands at $1.022bn. It brought in $2.5m in Australia to hold on to top spot and reach $23.5m in the third weekend, while Italy produced $2.2m in the second session to rank as the top foreign film and climb to $10.2m. Germany has delivered $20.5m after four, China $287.4m after six, France $24.2m after four, and the UK $25.7m after five.
Creed II grossed $12m from 43 territories for an early $51.7m. The boxing drama sequel opened in France at number one on $5.8m, little surprise given Creed's strong performance in the territory and all the more impressive that it was 33% higher than the original's debut. The Russia debut delivered $1.1m in third place, while Japan generated $1.1m in its first weekend. The UK remains the lead market on $12.7m, followed by Australia on $6.2m, then France, and Mexico on $5.1m after two sessions.
A Star Is Born has reached $200.6m at the international box office following a $3m session from 42 markets, while worldwide climbed to $403.5m. Japan produced $867,000 in the fourth session for $10.6m. The top market remains the UK on $38.7m, followed by Australia on $24.1m, then France on $16.6m.
Now released in 28 smaller markets, The Mule continued its staggered overseas launch with a $2.4m haul from 28 that pushed the early tally to $3.6m. The first major markets to open start with France on January 23, Australia on January 24, and the UK and Mexico on January 25.
Fantastic Beasts: The Crimes Of Grindelwald generated an estimated $2.6m from 52 for $489.2m, and $647.5m global.
FOX INTERNATIONAL
UPDATED: Fantasy adventure Dragon Ball Super: Broly grossed $19.2m from 17 territores to raise the international running total to $53.5m. The film excelled in Latin American debuts, earning $6.1m in Mexico, $2.5m in Peru, $1.7m in Chile, $1.55m in Argentina, $1.49m in Central America, $1.46m in Colombia, and $1.3m in Ecuador. Japan produced a $1m weekend to raise the tally to $31.6m after five.
Golden Globe best dramatic film winner Bohemian Rhapsody added $16.4m for $575.6m from 57. Japan, South Korea and the UK are the top markets on $81.7m after 10 weekends, $75.3m after 11, and $64.8m after 12. The Favourite added $3m in its second session in the UK and stands at $10.6m.
WALT DISNEY STUDIOS MOTION PICTURES INTERNATIONAL
UPDATED: Ralph Breaks The Internet added $16.4m from 35 material territories to reach $244.7m and $435.1m worldwide. According to estimates, China has delivered $39m to stay on top of the leaderboard, followed by Japan on $27.9m, and the UK on $21.2m. Poland returned a $1m debut in the second highest Disney Animation Studios opening behind Zootopia.
Mary Poppins Returns brought in a further $10.7m from 48 material territories for $137.3m and $288m worldwide. The UK remains the lead market on $48.5m (£38.2m) and has overtaken the £36.8m lifetime total of Captain America: Civil War and those of Deadpool (£37.9m) and Deadpool 2 (£32.7m). Italy has generated $14.4m, and France $10.4m.
The family film has grossed $112m across Europe, overtaking the cumulative totals of The Greatest Showman on $105m and Les Miserables on $100m.
SONY PICTURES RELEASING INTERNATIONAL
UPDATED: Spider-Man: Into The Spider-Verse, which last weekend won the animation Golden Globe and subsequently earned a BAFTA nomination, added $9.4m from 65 markets for $154.8m and crossed $300m worldwide to stand at $302.4m. Brazil led all markets for the film with $2.8m number one debut, while Thailand delivered $900,000 including previews for number one.
Horror title Escape Room added $1.5m from 15 for an early $2.9m. Cold Feet (Kalte Fusse), a local-language crime comedy from Sony Pictures International Productions, debuted in Germany on $900,000 including previews. Germany's Wolfgang Groos directed the story about a small-time burglar trapped in a villa during a snowstorm with his wealthy wheelchair-bound victim.
UNIVERSAL PICTURES INTERNATIONAL
UPDATED: How To Train Your Dragon: The Hidden World stands at $15.4m after a $7.8m haul from eight territories and opened in six led by Indonesia on $2.8m for number one, a debut that delivered the third biggest three-day opening weekend for animation behind Minions and Despicable Me 3. In two other number one launches, the family film opened in Norway on $781,000 and UAE on $761,000. Holdover territory Australia delivered $2.4m for $9.2m after two sessions, and New Zealand has produced $1.1m.
The Grinch grossed $3.6m for $236m from 69, and Mortal Engines added $2.2m for $57.1m from 67, opening in Brazil at number six on $663,000, Colombia at number four on $282,000, and Argentina at number eight on $115,000. Welcome To Marwen has reached an early $1.7m from five, and debuted in Italy at number 11 on $326,000.
STX INTERNATIONAL
Second Act grossed $3.5m for $14.6m from 51 markets. The Upside complemented the number one North American debut with $1.3m from 17 markets.
eONE
UPDATED: Stan & Ollie starring Steve Coogan and John C. Reilly opened in the UK in first place on $3.3m, and arrived in Netherlands in ninth place on $158,256. eOne produced with BBC Films and Fable Pictures and the film earned three BAFTA nods last week. The film stands at $3.5m internationally and $3.8m worldwide.