NT Live broadcast production around the world.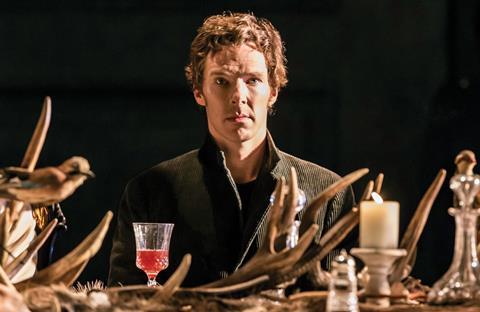 NT Live's broadcast of Shakespeare's Hamlet, starring Benedict Cumberbatch, has become the highest grossing event cinema opening of 2015.
Rentrak reported that Hamlet was the top grossing title at the box office in UK and Ireland on Oct 15 (Thurs) and stood at number three on the week overall with initial sales reports of $2.6m (£1.7m) ahead of encore screenings from Oct 22.
As of Sunday night (Oct 18), the figure stood at $2.92m (£1.889m).
The production, directed by Lyndsey Turner and produced by Sonia Friedman Productions was broadcast live to 87% of UK cinemas and thousands more around the world direct from the stage of the Barbican Theatre in London.
The cast also included Leo Bill (Horatio), Siân Brooke (Ophelia), Anastasia Hille(Gertrude), Ciarán Hinds (Claudius), Kobna Holdbrook-Smith (Laertes) Karl Johnson (Ghost, Gravedigger) and Jim Norton (Polonius).
Prior to the broadcast, Cumberbatch said: "It feels truly thrilling to be opening up our theatre production of Hamlet to the wider reach of a National Theatre Live audience.
"The idea that people who can't get to the theatre, for whatever reason, can join us for one night in cinemas around the country - and indeed the world - is extraordinary."
Billy Elliot the Musical - Live became event cinema's first ever number one at the UK box office in Sept 2014.
Universal's live stream from London's Victoria Palace Theatre made $2.95m (£1.904m) on its release, surpassing the previous best opening set by NT Live: War Horse at $2.5m (£1.6m).