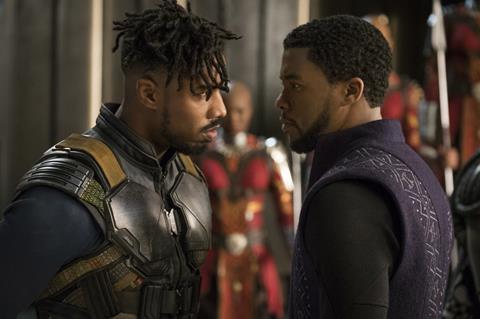 MARCH 12 UPDATE: Black Panther added an estimated $141.1m globally to reach $1.078bn over the weekend, of which a solid $66.5m came from China for the fourth highest debut by a Marvel Cinematic Universe (MCU) title and 53% market share.
WALT DISNEY STUDIOS MOTION PICTURES INTERNATIONAL
The film crossed $1bn on Saturday and over the Friday-Sunday session added $100m for $516.6m internationally and $41.1m in North America for $562m.
Black Panther held firm at number one in a number of markets, among them the UK, where it has reached $55.8m and finally relinquished its crown as the lead market to China. A table-topping hold in Australia resulted in a $25.7m running total.
Elsewhere, the superhero smash has generated $42.4m in South Korea (where a significant part of the story takes place), $29.6m in Brazil, $25.2m in France, $24.6m in Mexico, $17.6m in Germany, $17m in Russia, $12.3m in Taiwan, $12.1m in Indonesia, $9.7m in Malaysia, $9.6m in India, $9.2m in the Philippines, and $8.9m in Japan.
Overall, Black Panther earned $11m over the weekend led by a $7.3m launch in China that delivered the best March opening weekend in the territory. The IMAX running total stands at $78m, of which $46m comes from North America.
A Wrinkle In Time opened day-and-date with North America on $6.3m from six territories, launching in Russia at number two on $1.4m over the Women's Day Holiday. Spain produced $1m, and Ukraine $500,000. The film debuts in France on Wednesday (March 14), followed by the UK on March 23, and Australia, Mexico, Italy and Brazil on March 29. Germany receives the film on April 5.
CHINA UPDATE
Operation Red Sea grossed a further $23.8m as the actin release climbed to $529.3m, while Detective Chinatown 2 added $11.2m for $522.7m.
FOX INTERNATIONAL
UPDATED: Jennifer Lawrence spy thriller Red Sparrow added $16m for $52.1m and in the second weekend grossed $1.9m for $5m in Germany for number one, $1.6m for $5.6m for number three in the UK, and $1.6m for $4.6m for second place in Australia. Spain generated $1.4m for $4.2m and second place.
Quadruple Oscar winner The Shape Of Water took another big step towards the $100m mark, adding $12.5m on the back of best picture and best director wins to reach $88.6m. The UK is the lead market on $8.9m after four weekends, followed by Spain on $8.6m after four, Italy on $8.2m after four, and France on $6.9m after three. The fantasy romance opened in the UAE on $282,531.
Another Fox Searchlight Oscar winner, Three Billboards Outside Ebbing Missouri, brought in $5.9m for $89.7m with two international markets still to come including South Korea this week (March 15). The UK is the lead market on $18.9m after nine sessions, with Australia on $8.5m after 10, Spain on $6.8m after nine, and China on $6.9m following a $2.2m second weekend.
The Greatest Showman added $5.4m for $221.3m and crossed $51m in the UK after an 11th session that delivered $2.2m. Japan added $2.4m for $24.8m after four weekends. Maze Runner: The Death Cure stands at $225.2m.
WARNER BROS PICTURES INTERNATIONAL
UPDATED: Warner Bros/MGM's Tomb Raider reboot starring Alicia Vikander debuted well in nine Asian markets on $14.2m ahead of this week's North American release. The film opened top in most markets and arrives in China and Vietnam this week. Highlights were South Korea on $2.9m in second place, Indonesia on $2.5m, Taiwan on $2m, Malaysia on $1.7m, Hong Kong on $1.3m, Thailand on $1.2m, and Philippines on $1.1m.
Crime caper Game Night added $5.4m for $24.9m and stands at $3.7m in the UK after a $1.2m second weekend, Australia has produced $4.1m after three, and Germany $2m after two. Clint Eastwood's thriller 15:17 To Paris has grossed $17.6m so far and Japan leads the way at this relatively early stage on $3.9m, followed by Italy on $3.5m, France on $3.5m, the UK on $897,000, and Spain on $845,000.
UNIVERSAL PICTURES INTERNATIONAL
UPDATED: Russian release I Lose Weight took $5.9m in a number one debut that placed ahead of A Wrinkle In Time and delivered a record opening day for a local title on $1.9m.
Fifty Shades Freed added $5.1m for $261.3m and stands at $359.6m worldwide. Germany produced $1.2m for $31.7m in the fifth session. The UK has produced $25m, France $24.1m, and Brazil $19.3m. Lady Bird added $3m for $16.2m, The Post $2m from Universal markets for $28.6m, and Phantom Thread $1.6m for $20.7m.
SONY PICTURES RELEASING INTERNATIONAL
UPDATED: Peter Rabbit grossed $4.8m from 13 territories for an early $26.2m and opens in the UK and Mexico on March 16. Call Me By Your Name – the Oscar winner for best adapted screenplay – added $1.1m for $17.1m.
STX INTERNATIONAL
Amazon Studios' dark comedy Gringo directed by Nash Edgerton arrived in eight territories including the UK on $850,000 overall. Amazon Studios financed the film and STX handles international sales, distributes directly in the UK, and services the US release. VVS distributes in Canada. Den Of Thieves added $1.3m for $27.5m.
SIERRA/AFFINITY
I, Tonya featuring best supporting actress Oscar winner Allison Janney added $1.m for $16.2m. In its third weekend in the UK the dark comedy added $540,000 though eOne for $3.8m.