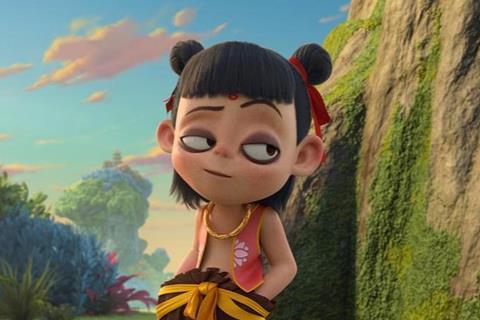 AUGUST 12 UPDATE: Chinese animation smash Nezha ruled international box office and hit the $500m mark, while Universal's Hobbs & Shaw remained the worldwide champion as it surged past $200m at the international box office and $300m worldwide
Once Upon a Time… In Hollywood delivered a career-best debut for Quentin Tarantino in Russia on $7.7m for Sony, while Disney-Pixar's Toy Story 4 took another stride towards the $1bn mark.
CHINA UPDATE
Enlight Media's Nezha, already the highest-grossing animation release of all time in China, brought in a further $64.5m as the running total in China leapt to $507.4m. Yang Yu's feature directorial debut is based on a popular figure in Chinese novel The Investiture Of The Gods (Fengshen Yanyi) – the rebellious son of an army commander who fights the Dragon King and change his own destiny. Bona Film Group's action film The Bravest produced by Andrew Lau added $28.9m for $163.6m.
UNIVERSAL PICTURES INTERNATIONAL
UPDATE: Hobbs & Shaw added $60.3m from 66 territories as it dropped roughly 50% in its second session to reach $223.4m internationally. Executives said like-for-like it is tracking on par with Fast & Furious 6 in all opened markets.
With anticipated debuts in South Korea and, more significantly, China, just around the corner, the $85.6m global haul propelled the action thriller starring Dwayne Johnson, Jason Statham, Idris Elba and Vanessa Kirby to $331.8m. Universal's Fast franchise spin-off opened in five markets, led by France on $7.3m at number one, Italy on $2.6m at number one, and Belgium on $1.6m in second place.
The UK led the holdovers on $3.5m for $15.5m following a 41% drop, followed by Germany on $3.1m for $10.1m (42%), Japan $2.8m for $14.1m (41%), Russia on $2.8m for $14.1m (68%), and Australia on $2.6m for $8.7m (46%). Elsewhere, Hobbs & Shaw added $2.6m for $12.9m in Mexico (60% drop), $2.5m for $10.5m in Taiwan (38%), $1.8m for $10.9m in Indonesia (61%), $1.8m for $6.8m in Brazil (49%), and $1.7m for $7.3m in Malaysia (57%).
Illumination Entertainment's The Secret Life Of Pets 2 brought $16.2m from 51 territories and stands at $222.1m from 67. In a pair of respectable number one debuts, the family animation earned $4.9m in Mexico (the 2016 original delivered $7.6m in opening weekend), and $2.6m in Spain (compared to $4.5m for the first film). It opened at number three in Colombia on $649,000. France was the top holdover on $2.8m for $7.7m after two weekends, while Japan produced $1.2m for $10.9m after three, and South Korea $1m for $6m after two.
Yesterday stands at $54.5m internationally, and $125m worldwide. The fantasy starring Himesh Patel and Lily James stands at $15.7m after seven sessions in the UK, and opens in China this week.
WALT DISNEY STUDIOS MOTION PICTURES INTERNATIONAL
The Lion King used $51.4m international and $71.4m global weekends to climb to $473.1m and $1.335bn, respectively. The family smash debuted in second place in Japan on $9.3m heading into the week's Obon holiday, and overall ranks as the 12th highest worldwide release of all time, unadjusted for inflation and currency exchanges, and the second highest international, global, and North American release of the year-to-date.
China leads the territories on $120m, followed by the UK on $73.9m, France on $61.4m, Brazil on $60.4m, and Mexico on $49m. The Lion King dropped 31% across Europe, where it has amassed $400m, and stands at $287m in Asia-Pacific, and $174m in Latin America. It opens in Italy on Aug. 21.
Toy Story 4 is nearing the $1bn global box office milestone and will become the fifth Disney film this year to accomplish the feat after Avengers: Endgame, Captain Marvel, The Lion King, and Aladdin. The Pixar release added $9.7m from 36 territories for $570.4m, and $14.1m globally for $990m. It opened top in Poland on $900,000 for the third highest Pixar debut.
The UK, where the film ranks as the second highest animation in history, leads the territory scoreboard on $73.8m. Mexico is next on $71.8m, followed by Japan on $71.1m, Brazil on $32.4m, China on $29.1m, Argentina on $28.6m, and Australia on $28.5m. Toy Story 4 ranks as the highest-grossing animation of all time in Latin America (unadjusted for inflation or currency exchange) on $196m.
Aladdin has grossed $1.035bn worldwide and $682.5m internationally. Japan is the clear leader on the territory board with a $107.2m running total, followed by South Korea on $90m, China on $53.3m, the UK on $46.2m, and Mexico on $32.5m.
Disney's Fox 2000 drama The Art Of Racing In The Rain starring Milo Ventimiglia, Kevin Costner, and Amanda Seyfried earned $1.1m from 12 in a day-and-date launch with North America. Brazil and the UK delivered $300,000 and $200,000, respectively.
SONY PICTURES RELEASING INTERNATIONAL
In the weekend when it crossed $100m in North America, Quentin Tarantino's Once Upon a Time… In Hollywood ventured into its first international market and pulled off a superb $7.7m number one result in Russia for the filmmaker's biggest ever debut there. By comparison, this was some 22% ahead of the debut by James Bond title Spectre, and some 154% ahead of that of The Wolf Of Wall Street.
Tarantino's ode to Hollywood past debuts in the UK, France, Germany, Brazil, Australia, and Spain this week. Then comes Mexico on Aug. 23, Japan on Aug. 30, Italy on Sept. 18, and South Korea on Sept. 26.
Spider-Man: Far From Home brought in an additional $5.3m from 67 markets for a $726m international running total, and $1.09bn worldwide. Last weekend, Sony Pictures International Productions' (SPIP) Spanish comedy Padre No Hay Más Que Uno (Father Is The Only One) delivered the highest opening weekend by a local film in Spain so far this year, and it followed up with a $1.3m session to reach $5.1m after a mere 23% drop.
EONE
CBS Films / eOne's horror release Scary Stories To Tell In The Dark produced by Guillermo del Toro and directed by André Øvredal mustered $4m from its first 30 international debuts, where highlights came from Taiwan on $602,000, Russia on $577,000, Spain on $556,000, Peru on $340,000, and Brazil on $249,000. The film about a group of teenagers who confront their fears in a small town opens this week in Mexico, followed by France on Aug. 21, and the UK on Aug. 23.
PARAMOUNT PICTURES INTERNATIONAL
Dora And The Lost City Of Gold opened day-and-date with North America and the family adventure generated $2.5m from its first 11 markets, as executives claimed that on a like-for-like basis the performance exceeded debuts of Spy Kids 4: All The Time In The World by 16%, Peter Pan by 123%, and Bridge To Terabithia by 82%.
Dora opened at number four in Russia on $878,000, number two in Indonesia on $420,000, number six in Malaysia on $239,000, and number five in Netherlands on $233,000. The film opened at number two in Thailand on $225,000, number five in India on $171,000, number six in Taiwan on $166,000, and number four in Vietnam on $113,000. It opens this week in the UK and France.
Paramount's alligator horror Crawl opened at number four in Mexico on $1.4m and overall added $2.3m from 28 markets as the international running total slithered to $20.6m. The next wave of markets brings debuts in Russia and Germany on Aug. 22, and the UK and Spain on Aug. 23.