Fox's sci-fi takes the reins from War Horse, which drops to 4th, over a snow-affected weekend in the UK; StudioCanal has DVD hit with Tinker Tailor.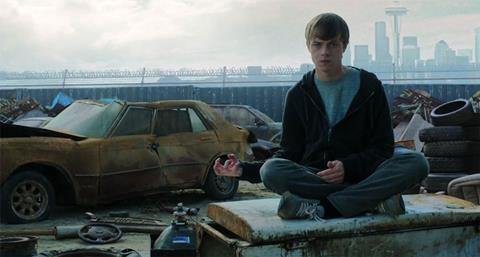 Boosted by two days of previews, Chronicle debuted in pole position at the UK box office taking $3.5m (£2.2m) from its 397 locations for a week-high average of $8,691 (£5,524). Fox's found footage sci-fi follows three teenagers who find themselves imbued with telepathic powers after a strange discovery and while its previews of $970,343 (£616,717) saw it break the £2m barrier, it would have still been top without them.
Its debut couldn't quite match Cloverfield's $5.5m (£3.5m) haul when it opened over the same weekend in 2008 and without any added previews, but arguably Cloverfield benefitted from bigger names (J.J. Abrams) and a protracted marketing campaign. Strong reviews - and better weather - could however see Chronicle challenge Cloverfield's total gross of $15.1m (£9.6m), especially with the upcoming February half-term.
Potentially as a result of the snow that affected large parts of the UK over the weekend, this week's top 15 was 18% down on the previous week's and 36% down on the same period last year, although that week benefitted from a potent one-two combo of Tangled and The King's Speech at the top of the chart.
This week's closest challenger to Chronicle came from another new opener in the form of 3D family adventure Journey 2: The Mysterious Island. Warner Bros.' sequel, starring Dwayne Johnson and Michael Caine, grossed $1.9m (£1.2m) to land second, with 62.3% of its gross coming from 3D screens. The result meant it beat its 2008 predecessor's debut of $1.5m (£953,878) although Journey 2 did however open in significantly more locations than the original (431 as opposed to 293).
Despite falling a place to third, Fox's The Descendants managed a strong holdover performance - the best of the top 20 - falling just 38% on its way to $1.8m (£1.1m) for $6.6m (£4.2m), toppling Alexander Payne's previous best performance in the UK - the $6.1m (£3.9m) final tally of Sideways - in the process.
Walt Disney's War Horse may not have managed four weeks on the trot at number one, but can comfort itself in the knowledge that it's now moved into the top 20 best performers at the UK box office over the last 52 weeks with Tintin ($25.6m/£16.3m) firmly in its sights. It now stands at $24.1m (£15.3m) after a further $1.4m (£889,687) saw it chart fourth.
Among the films it leapfrogged was Studio Canal's Tinker Tailor Soldier Spy, which resides at the top of the UK DVD charts this week after selling 201,000 units - the best first week record for a Studio Canal release ever, topping the 122,000 units sold by Unknown last year.
Although Jack And Jill's $1.3m (£848,814) debut saw it round off this week's top five, it marked one of the softest for an Adam Sandler comedy in the UK in recent years. The likes of Just Go With It, You Don't Mess With The Zohan and I Now Pronounce You Chuck And Larry all managed $1.6m (£1m) plus openings, although it's worth noting that Jack And Jill's 324 locations is the lowest saturation release for a Sandler comedy since Mr. Deeds opened in 293 sites back in 2002.
Two other new entries landed in this week's top ten with eOne's high-concept thriller Man On A Ledge just missing out on the top five in sixth after a $1.1m (£697,394) bow from its 389 locations. Studio Canal's Carnage performed better despite charting tenth as its $470,002 (£298,733) came from only 112 locations for a stronger average of $4,196 (£2,667).
In its eighth week, Warner Bros.' sequel Sherlock Holmes: A Game Of Shadows managed to topple its predecessor's final haul of $40.9m (£26.0m) and now stands at an excellent $41.1m (£26.1m) - the seventh best performer of the last 52 weeks at the UK box office.
Both Paramount's Young Adult and Fox's Martha Marcy May Marlene failed to trouble this week's top 15. Jason Reitman and Diablo Cody's second collaboration Young Adult only managed $216,702 (£137,736) at an average of $1,380 (£877) to chart 17th, while Martha Marcy May Marlene debuted 19th after a $173,310 (£110,156) opening from 100 locations.
This week sees the 3D re-release of Fox's Star Wars: Episode 1 - The Phantom Menace as well as the long-awaited return of Disney's The Muppets. Sony's romantic drama The Vow and Momentum's horror adaptation The Woman In Black also receive saturation releases. Universal's real life-based drama Big Miracle gets a wide release, while there is a limited release of Lionsgate's A Dangerous Method (which expands from Feb 17).