AUGUST 17 UPDATE: The year when Universal Pictures can seemingly do no wrong continued as the NWA biopic brushed Mission: Impossible – Rogue Nation aside. Warner Bros' The Man From U.N.C.L.E. flopped in third place.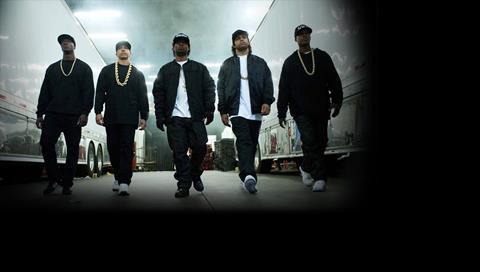 F Gary Gray directed Straight Outta Compton, which delivered the sixth biggest August debut in North American box office history. The film opened in 2,757 theatres and stars O'Shea Jackson Jr, Corey Hawkins, Jason Mitchell and Neil Brown Jr.
Warner Bros' The Man From U.N.C.L.E. directed by Guy Ritchie stars Henry Cavill, Armie Hammer and Alicia Vikander. The 1960s-set TV spy adaptation failed to ignite and arrived at number three on $13.4m from 3,638 venues.

Rogue Nation had to settle for second place on $17.2m for $138.3m and is tracking as the second lowest in the franchise with some way to go before it overtakes the 1996 original's $180.9m lifetime total, unadjusted for inflation.
Ominously for Fox, Fantastic Four has settled into a miserable trajectory in only its second weekend. The superhero adaptation – Fox's third attempt to crack the property – slipped two places to number four and has amassed $42.1m.
Amy Schumer comedy Trainwreck in tenth place stands at the cusp of $100m after five sessions and has grossed $97.9m.
STX's first release The Gift continued a solid run considering its stated $5m production cost. The psychological thriller fell two to number five and added $6.5m for $23.6m.
Ricki And The Flash dropped two slots to number nine in its second weekend and has reached $14.6m through TriStar.
Fox Searchlight opened Noah Baumbach's Mistress America starring Greta Gerwig on an excellent $93,206 from four venues. People Places Things arrived on $31,000 from 19 sites through The Film Arcade.
Box office for the top 12 gained 13.3% against last weekend and gained 5.1% against the comparable session in 2014.
This week's wide releases are: Fox's action thriller Hitman: Agent 47 starring Rupert Friend; horror Sinister 2 via Focus Features; and action comedy American Ultra via Lionsgate with Kristen Stewart and Jesse Eisenberg.
Confirmed top 10 North America Aug 14-16, 2015
Film (Dist) / Conf wkd gross / Conf total to date

1 (-) Straight Outta Compton (Universal) Universal Pictures International $60.2m –
2 (1) Mission: Impossible – Rogue Nation (Paramount) Paramount Pictures International $17.2m $138.3m
3 (-) The Man From U.N.C.L.E. (Warner Bros) Warner Bros Pictures International $13.4m –
4 (2) Fantastic Four (Fox) Fox International $8.2m $42.1m
5 (3) The Gift (STX) Universal Pictures International/Blumhouse International $6.5m $23.6m
6 (5) Ant-Man (Disney-Marvel Studios) Walt Disney Studios Motion Pictures International $5.5m $157.5m
7 (4) Vacation (Warner Bros-New Line) Warner Bros Pictures International $5.2m $46.7m
8 (6) Minions (Universal-Illumination) Universal Pictures International $5.1m $312.9m
9 (7) Ricki And The Flash (TriStar) Sony Pictures Releasing International $4.6m $14.6m
10 (8) Trainwreck (Universal) Universal Pictures International $3.8m $97.9m