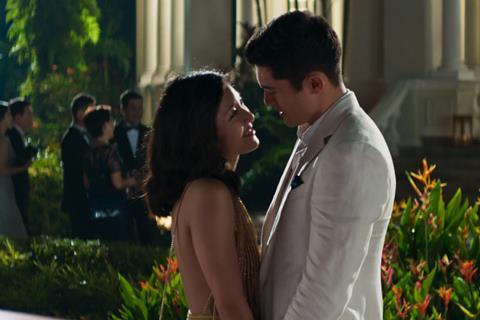 AUGUST 27 UPDATE: A superb second-weekend hold saw Warner Bros' rom-com Crazy Rich Asians extend its North American box office rule by $24.8m to $76.6m, while STX's The Happytime Murders and A.X.L. from Global Road both stumbled, and Screen Gems scored a strong limited debut for Sundance hit Searching.
Crazy Rich Asians delivered one of the best second-weekend percentage drops for a wide-release film on 6.4% after Warner Bros expanded the theatre count by 142 to 3,526. The film also performed well internationally, buoyed by a string of impressive debuts in Southeast Asia.
STX's R-rated human-puppet buddy movie The Happytime Murders starring Melissa McCarthy earned generally unfavourable reviews and disappointed on its debut, arriving at number three on $9.5m from 3,256 sites. The film reportedly cost $40m to produce excluding marketing.
Meanwhile the family adventure A.X.L. – which also failed to impress the critics – from the beleaguered Global Road just about broke into the top 10, arriving at number 10 on $2.8m from 1,710 venues. No production budget was available at time of writing.
Last week Screen broke the story that the theatrical production and distribution division of Global Road Entertainment, established by Donald Tang's Tang Media Partners, is now in the hands of the banks as the company's financial status declines and it faces bankruptcy.
The Meg held firm in second place and added $12.8m for $105.1m via Warner Bros, dropping 39.4% in its third weekend. Mission: Impossible – Fallout is closing in on $200m for Paramount and Skydance Media and held firm at number four after a 24.9% drop in its fifth weekend, adding $8.1m for $193.9m. In its fourth session Disney's Christopher Robin fell 29.3% and held on to sixth place on $6.3m for $77.8m.
Focus Features' BlacKkKlansman fell 30.9% in its third session and one slot to number eight as $5.1m boosted the tally to $31.8m. The race drama is about to overtake the inflation-unadjusted $32.5m final total of 1991's Jungle Fever to rank as Spike Lee's third highest narrative release in North America behind 2006 heist thriller Inside Man on $88.5m, and 1992 biopic Malcolm X on $48.2m.
In a couple of second-weekend performances, STX's Mark Wahlberg action thriller Mile 22 dropped 53.6% and two slots to number five on $6.4m for $25.5m, while Studio 8's family adventure Alpha fell 42%, adding $6m for a $20.6m running total.
Bleecker Street opened the adventure remake Papillon starring Charlie Hunnam and Rami Malek at number 16 on $1.1m from 544 sites, while Screen Gems released its Sundance thriller Searching starring John Cho at number 22 on $388,769 from nine sites for a mighty $40,000 average.
A check on the summer's three outstanding documentary releases reveals that Won't You Be My Neighbor? at number 30 has grossed $22.3m after 12 weekends through Focus Features, while NEON's Three Identical Strangers at number 24 has grossed $11.1m after nine weekends, and Magnolia's RBG stands at $13.9m and had reached number 51 after 17 sessions.
The top 12 combined for $89.1m, down 23.3% on last weekend, and up 75.4% against the comparable session in 2017.
Summer season officially comes to a close with next weekend's Labor Day holiday. This week's wide releases are: Lionsgate's sci-fi action Kin; and Operation Finale , MGM's thriller about the hunt for Nazi war criminal Adolf Eichmann that stars Oscar Isaac, Ben Kingsley, and Melanie Laurent.
Confirmed top 10 North America Aug 24-26, 2018
Film (Dist) / Conf wkd gross / Conf total to date
1 (1) Crazy Rich Asians (Warner Bros) Warner Bros Pictures International $24.8m $76.6m
2 (2) The Meg (Warner Bros) Warner Bros Pictures International $12.8m $105.1m
3 (-) The Happytime Murders (STX) STX International $9.5m –
4 (4) Mission: Impossible – Fallout (Paramount) Paramount Pictures International $8.1m $193.9m
5 (3) Mile 22 (STX) STX International $6.4m $25.5m
6 (6) Disney's Christopher Robin (Buena Vista) Walt Disney Studios Motion Pictures International $6.3m $77.6m
7 (5) Alpha (Studio 8) $6m $20.6m
8 (7) BlackKklansman (Focus Features) Universal Pictures International $5.1m $31.8m
9 (8) Slender Man (Screen Gems) Sony Pictures Releasing International $2.79m $25.4m
10 (-) A.X.L. (Global Road) Global Road International $2.78m –