Powered over the line by last weekend's record-breaking debut of Star Wars: The Force Awakens, studio top brass said they were projected to reach the milestone for the first time.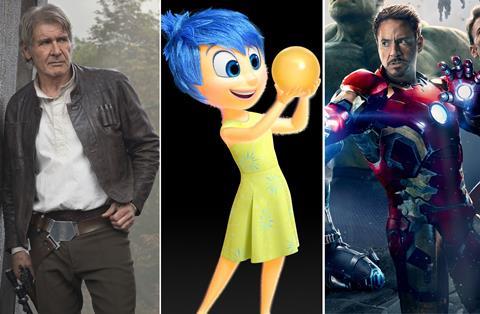 As of Monday (Dec 21), the year-to-date haul stood at $4.985bn worldwide, comprising $3.134bn internationally and $1.851bn in North America.
Both are new records for the studio and overtake the previous marks of $3.013bn (intl), $1.719bn (NA) and $4.73bn (WW) – all set in 2013.
Besides The Force Awakens, this year's superheroes for Disney include:
Marvel's Avengers: Age Of Ultron on $459m (NA), $946m (intl) and $1.4bn (WW);
Inside Out, from Disney•Pixar, on $356.4m (NA), $499m (intl) and $855.4m (WW); and
Cinderella on $201.1m (NA), $341.4m (intl) and $542.5m (WW).
Marvel's Ant-Man generated $180.1m (NA), $339m (intl) and $519.1m (WW), while Big Hero 6 amassed $305m globally in the 2015 portion of its run.