DreamWorks Animation's How To Train Your Dragon 2 finished top of the pile last session thanks to a sterling debut in China that delivered a little over $26m.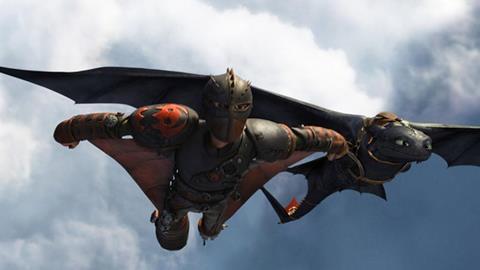 Currently at $386.1m, mostly through Fox International, the animation is likely to sweep past $400m by the end of the weekend.
Whether or not it can stay top is another story, given the triple threat that endures in the international arena.
Marvel Studios' Guardians Of The Galaxy remains potent and has soared to $215.4m through Walt Disney Studios Motion Pictures International.
Paramount Pictures International's (PPI) Teenage Mutant Ninja Turtles and independently financed The Expendables 3 are in their infancy and will both pack a punch for a while yet.
The former has raced to $77.1m and debuts in the Netherlands, while The Expendables 3 took around $15m in its opening weekend through Nu Image licensees and debuts this week in France, Brazil, South Korea, Colombia and Chile, Belgium and Luxembourg.
Further launches in Germany and Austria through Fox International and holdover business in the Universal markets of Russia and Spain will keep Sylvester Stallone and friends in the thick of the action.
PPI's Transformers: Age Of Extinction stands at $814.9m and Hercules $81.5m.
Guardians' Disney stablemate Planes: Fire & Rescue stands at $51.1m and opens in Russia and the Philippines.
Returning to Fox International, Frank Miller's Sin City: A Dame To Kill For opens day-and-date with North America in the high-piracy market of Russia; Ramon Guten Tag arrives in Mexico; Let's Be Cops debuts in nine markets including Norway; and When Animals Dream launches in Germany.
Dawn Of The Planet Of The Apes stands at $345.3m and The Fault In Our Stars opens in France and has grossed $152.2m.
Sony Pictures Releasing International's Deliver Us From Evil on $14.5m opens in nine territories including the UK, South Korea and Italy.
Sex Tape enters 12 territories including Brazil and South Africa and has amassed more than $35m so far, while comedy hit 22 Jump Street has taken more than $115.3m and opens in Spain.
Lionsgate International's Step Up All In has reached $46.4m and opens this weekend in Spain and Italy. Pompeii stands at $85.3m
Warner Bros Pictures International's Into The Storm had reached $18.5m by last weekend and opens in the UK, Germany and Japan.