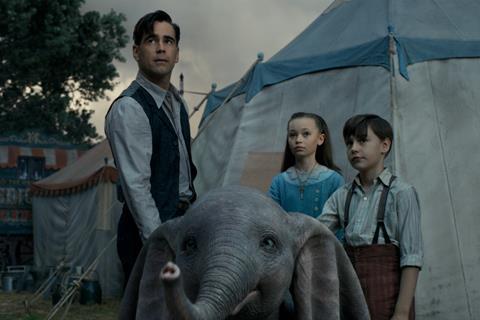 APRIL 1 UPDATE: Disney's live-action Dumbo took off at the North American box office however the confirmed $45.9m number one debut would have been below what executives were looking for on a starry, effects-laden film that reportedly cost $170m to produce.
Tim Burton's take on the family property stars Michael Keaton, Colin Farrell, Eva Green and Danny DeVito and opened in 4,259 theatres. The $71m international debut will help the studio on the road to recoupment and after three days the global running total stands at $116m.
Jordan Peele's horror Us crossed $100m in its second session. The film slipped 53.3% to number two, adding $33.2m through Universal to reach $127.8m. Peele's directorial debut Get Out finished on $176m in 2017 and Us has a shot of reaching that target.
Hotel Mumbai climbed 31 places to number eight in its second weekend after Bleecker Street expanded the theatre count from four to 924 and the true-life terror attack drama grossed $3.2m for $3.3m. Dev Patel and Armie Hammer star.
Captain Marvel crossed $350m in its fourth session after a 39.7% decline. Marvel Studio's latest behemoth slipped one slot to number three on $20.7m for $353.9m through Buena Vista. The global tally has reached $992.6m and it will cross $1bn within days. As things stand, the film ranks as the 14th highest superhero release of all time in North American after it overtook the final grosses of Spider-Man: Homecoming ($334m), Aquaman ($335m) and Spider-Man 3 ($337m) this weekend.
DreamWorks Animation's How To Train Your Dragon: The Hidden World crossed $150m in its sixth weekend through Universal, earning $4.4m for $153.1m and ranking seventh
PureFlix's pro-life drama Unplanned opened at number four on $6.4m in 1,059 sites, higher than expected, amid some controversy. The film's Twitter account was suspended briefly on Saturday before it was restored later in the day after users notified Twitter.
The platform explained the film had been suspended because the film's official account was linked to another account that had violated the social platform's rules. Unplanned co-directors and co-writers Cary Solomon and Chuck Konzelman argued in the press that the incident was tantamount to an attack on free speech.
NEON launch Harmony Korine's comedy The Beach Bum starring Matthew McConaughey as a stoner arrived at number 10 on a forgettable $1.8m in 1,100 venues. Gloria Bell starring Julianne Moore ranks 11th and added $1.1m via A24 for $4.1m after four weekends.
Box office for the top 12 combined for $131.4m in a 6.8% drop from last weekend, and an 8.7% climb against the year-ago session when Ready Player One opened top on $41.8m.
This week's wide releases are: superhero action Shazam! Via Warner Bros / New line; horror Pet Sematary through Paramount; and Civil Rights drama The Best Of Enemies starring Taraji P. Henson and Sam Rockwell through STX Entertainment.
Confirmed top 10 North America Mar 29-31 2019
Film (Dist) / Conf wkd gross / Conf total to date
1 (-) Dumbo (Buena Vista) Walt Disney Studios Motion Pictures International $45.9m –
2 (1) Us (Universal) Universal Pictures International $33.2m $127.8m
3 (2) Captain Marvel (Buena Vista) Walt Disney Studios Motion Pictures International $20.7m $358.9m
4 (-) Unplanned (Pure Flix) $6.4m –
5 (4) Five Feet Apart (Lionsgate) Lionsgate International $6.2m $35.8m
6 (3) Wonder Park (Paramount) Paramount Pictures International $5m $37.9m
7 (5) How To Train Your Dragon: The Hidden World (Universal) Universal Pictures International $4.4m $153.1m
8 (39) Hotel Mumbai (Bleecker Street) Arclight Films $3.2m $3.3m
9 (6) Tyler Perry's A Madea Family Funeral (Lionsgate) Lionsgate International $2.7m $70m
10 (-) The Beach Bum (NEON) Rocket Science $1.8m –