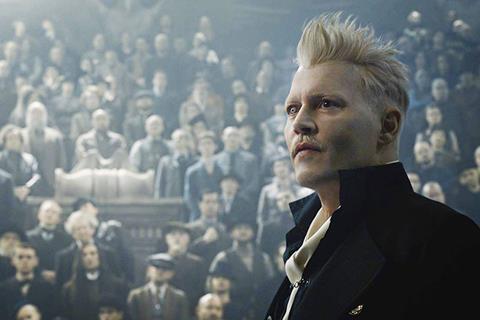 Warner Bros executives launch Fantastic Beasts: The Crimes Of Grindelwald in 79 territories this week and industry sources said the international launch could go as high as $205m outside North America.
David Yates' adaptation of JK Rowling's Harry Potter spin-off stars Eddie Redmayne, Jude Law, Zoe Kravitz and Johnny Depp and debuts first in France and South Korea on Wednesday (14). After that come Australia, Germany, Russia, Brazil and Italy on Thursday, followed by the UK, China and Mexico on Friday.
Fantastic Beasts And Where To Find Them grossed $186.4m excluding previews when it launched in the same markets in late 2016.
China was not among the opening salvo and its inclusion in the first weekend of Grindelwald should give the fantasy sequel a big boost, given that local audiences rewarded the original with a $40.5m opening weekend en route to $85.9m, which produced by far the top international result.
The UK delivered an $18.9m debut for Fantastic Beasts And Where To Find Them and maintained momentum through to a $68m final gross, while France generated a $9.1m debut on the way to $30.8m. The second biggest market by the end of the film's run was Japan on $63.7m.
Overall, the fantasy feature finished on $580m internationally and $814m worldwide. The indications are that Grindelwald will overtake that, given the highly positive early response from critics. It is anticipated to generate approximately 33m admissions from 46,025 screens by Sunday.
Grindelwald is one of five planned instalments in the Harry Potter prequel franchise. The cast includes Dan Fogler, Katherine Waterston, and Ezra Miller.