APRIL 6 UPDATE: The world belongs to Paul Walker, Vin Diesel and the gang as the roar of revving engines heralded an euphoric weekend for Universal ahead of what is expected to be a massive summer for the industry.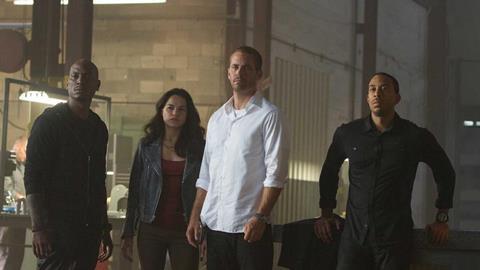 UNIVERSAL PICTURES INTERNATIONAL
UPDATED: Fast And Furious 7 – known as Furious 7 to its friends in North America – secured number one berths in all 63 international markets. The third highest industry launch ever saw the overall international running total race to a confirmed $245.1m in five days - nearly $5m more than initial Sunday estimates .
A resounding debut boasting a swansong from the late Walker, who died in November 2013, means the seventh entry in the franchise scored the best debut of the series and has already overtaken the entire international lifetime tallies of the first four chapters.
Only Harry Potter And The Deathly Hollows: Part 2 on $314m and Pirates Of The Caribbean: On Stranger Tides on $260.4m have opened higher in the industry.
Active in a Universal record 14,687 theatres around the world, Fast & Furious 7 grossed $391.6m – more than 48% higher than the sixth chapter – to score the fourth highest worldwide launch in history and turbo-boost the series to nearly $2.8bn.
The top three global debuts are Harry Potter And The Deathly Hallows on $483.2m, Harry Potter And The Half-Blood Prince on $394.4m and The Avengers on $392.5m.
Twenty-nine territories reported that Fast & Furious 7 recorded the biggest opening weekend in history, among them Mexico, Brazil, Argentina, the Middle East, Venezuela and South Africa. Thirty-nine reported Universal records.
Mexico led the way on $21.5m from 685 venues, followed by the UK on $18.7m from 537, Germany on $15.9m from 650, France on $11.4m from 707, Brazil $11.4m from 551 and Australia on $11.3m from 255.
Taiwan generated $10.3m from 80, Argentina $9.3m from 162, South Korea $8.9m from 333, Italy $8.2m from 470, Malaysia $7.3m from 194, Spain $6.3m from 358, Thailand $6m from 60 and Colombia $5.2m from 161. Peru generated an estimated $5m from 92.
IMAX generated an April record-breaking weekend on $7.5m from 175 international screens buoyed by a number of notable results such as the $105,000 per-screen average in Taiwan.
There are four more territories to open: Russia and Poland this week, followed by China on April 12 and Japan on April 17.
Fifty Shades Of Grey crossed $400m at the international box office to reach $566.1m worldwide. It ranks as Universal's eighth biggest film ever at the global box office.
WALT DISNEY STUDIOS MOTION PICTURES INTERNATIONAL
Cinderella surged to $230m on the back of a $24.3m weekend.
CHINA UPDATE
Wu Jing's Wolf Warriors starring Yu Nan and Scott Adkins grossed $22m to climb to an early $28m.
FOX INTERNATIONAL
UPDATED: DreamWorks Animation's Home added $20.1m to climb to an early $84.6m. The UK has generated $21.9m after three weekends, Mexico $6.9m after three and Australia $6.2m after three.
Kingsman: The Secret Service grossed $18.9m for $247.2m and added $15.9m in its second session in China for $53.1m. South Korea has delivered $44.1m after eight weekends.
The Second Best Exotic Marigold Hotel grossed $2.9m for $43.2m and arrived in Germany on $656,000, while local Russian release Battle For Sevastopol opened top in Russia on $3.2m and arrived in Ukraine on $191,000.
LIONSGATE INTERNATIONAL
UPDATED: Insurgent grossed $15.5m from 82 territories to reach $120.1m and $223.7m worldwide. The YA adaptation opened in Spain on $1.5m from 310 screens.
PARAMOUNT PICTURES INTERNATIONAL
The Spongebob Movie: Sponge Out Of Water grossed $5.8m from 40 territories and has amassed $136m.
WARNER BROS PICTURES INTERNATIONAL
UPDATED: Comedy Get Hard added $2.6m from nine markets to reach $11m and added $1.3m in its second session in the UK for $5.2m. Australia has produced $2.7m after two.
Focus added $4.4m from 61 markets for $91.6m. Jupiter Ascending stands at $134.3m and local German production Der Nanny $8.7m. American Sniper and Run All Night stand at $193.4m and $21.5m, respectively.
SONY PICTURES RELEASING INTERNATIONAL
Chappie added $1m from 6 markets for $49.1m.