Marvel Cinematic Universe releases hold five of the top six May debuts.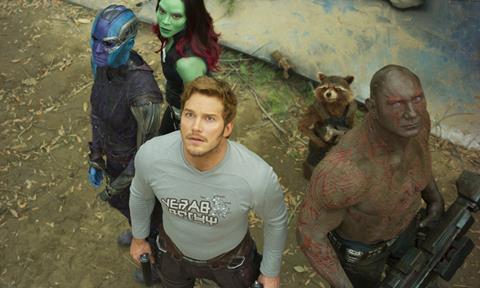 Heading into what is expected to be a mighty international opening weekend, Guardians Of The Galaxy Vol. 2 debuted in Australia and Italy on Tuesday.
Disney executives privately expect a strong result from the first international wave this weekend, which accounts for 58% of the entire international footprint.
The sci-fi sequel opens in France, Sweden, Indonesia, the Philippines, and Thailand on Wednesday, followed by Germany, Brazil, Hong Kong, Malaysia, Singapore, and Taiwan on Thursday.
The UK, Mexico and Spain round out the Marvel Studios tentpole's opening salvo.
Studio sources declined to provide estimates, however Guardians Of The Galaxy delivered $64.6m from the same bucket of international markets in 2014 en route to a $440.2m final tally.
By way of further comparison, Iron Man 3 opened to $141.4m, and Thor: The Dark World debuted on $85.4m.
Guardians Of The Galaxy Vol. 2 debuts on May 5 in North America, where the film is tracking on $130m-$150m. The original opened on $94.3m, finished on $333.2m, and grossed $773.3m worldwide.
Markets opening day-and-date with North America include Korea on May 3, Russia and Argentina on May 4, and China and India on May 5. Japan receives the film on May 12.
Marvel Cinematic Universe releases hold five of the top six May debuts, led by The Avengers, Avengers: Age Of Ultron, Captain America: Civil War, and Iron Man 3 in the top four. Guardians Of The Galaxy Vol. 2 is the 15th film in the series.
Guardians of the Galaxy Vol. 2 is currently earning an 86% rating on Rotten Tomatoes.
James Gunn wrote and directed the film, which features returning stars Chris Pratt, Zoe Saldana, Dave Bautista, Vin Diesel, Bradley Cooper, Michael Rooker, and Karen Gillan.
The cast includes Pom Klementieff, Elizabeth Debicki, Chris Sullivan, Sean Gunn, Tommy Flanagan, Laura Haddock, with Sylvester Stallone, and Kurt Russell.
Kevin Feige serves as producer, and Louis D'Esposito, Victoria Alonso, Jonathan Schwartz, Nikolas Korda, Stan Lee are executive producers.