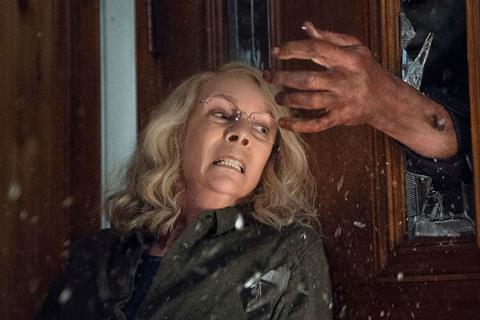 OCTOBER 29 UPDATE: Halloween held on to top spot with ease in its second session in a record October in North America, dropping 58.8% on a confirmed $31.4m for $126.1m via Universal following a 58% drop, as Warner Bros' A Star Is Born approached the $150m mark and Sony's Venom neared $200m.
This month's $789.9m running total makes October the best in history. Adding to the buzz was Amazon Studios' Suspiria, which benefitted from a smart word-of-mouth launch in two venues to deliver the highest average of the year-to-date. Luca Guadagnino's remake about a dancer who arrives at a Berlin academy run by witches debuted at number 23 and grossed $184,037 from two venues, earning $92,019 in each. Dakota Johnson and Tilda Swinton star.
Lionsgate-Summit's submarine thriller Hunter Killer with Gerard Butler surfaced at number five in its opening session, grossing $6.7m from 2,728 theatres. Rowan Atkinson underwhelmed as Johnny English Strikes Again opened at number 12 on $1.6m from 544 sites. Pure Flix's faith-based release Indivisible arrived at number 13 on $1.5m from 830.
The horror hit from Universal, Blumhouse and Miramax starring Jamie Lee Curtis ranked as the number one global and international release over the weekend and remains on course to cross $150m in North America by next weekend.
A Star Is Born held firm at number two on $14m for $148.6m after four, while Venom stayed put in third place, adding $10.7m for $187.1m after four. There was good news for Jonah Hill's feature directorial debut Mid90s as it surged 10 places to number 10 in the second session after A24 expanded the theatre count from four to 1,206, adding $2.9m for $3.3m.
Acclaimed documentary Free Solo at number 15 consolidated its status as the fourth buzzy documentary to strike gold at the North American box office this year after Won't You Be My Neighbor?, Three Identical Strangers, and RBG. National Geographic expanded the footprint of its rock climb film from 251 to 394 as it added $1.1m for $5.2m after five weekends.
Neon opened its Certain Regard winner Border in seven venues for $73,700 and a $10,529 average. Ali Abbasi's troll-love drama and came in at number 35. Lee Chang-dong's South Korean Cannes 2018 selection Burning opened through Well Go USA at number 43 on $26,130 from two theatres for a $13,065 average.
Box office for the top 12 generated $94.4m, down 40.6% on last week's mega session by Halloween, and up 53.9% on the comparable session in 2017.
This week's wide releases are: Fox's Queen and Freddie Mercury drama Bohemian Rhapsody starring Rami Malek, which scored a mighty $12.2m number one UK debut this weekend; The Nutcracker And The Four Realms with Keira Knightley and Helen Mirren released via Buena Vista; and Paramount comedy Nobody's Fool with Tiffany Haddish and Tika Sumpter.
Confirmed top 10 North America Oct 26-28, 2018
Film (Dist) /Conf wkd gross / Conf total to date
1 (1) Halloween (Universal) Universal Pictures International $31.4m $126.1m
2 (2) A Star Is Born (Warner Bros) Warner Bros Pictures International $14m $148.6m
3 (3) Venom (Columbia Pictures-Marvel) Sony Pictures Releasing International $10.7m $187.1m
4 (4) Goosebumps 2: Haunted Halloween (Columbia Pictures) Releasing International $7.3m $38.1m
5 (-) Hunter Killer (Lionsgate/Summit) Lionsgate International $6.7m –
6 (6) The Hate U Give (Fox) Fox International $5.1m $18.3m
7 (5) First Man (Universal) Universal Pictures International $4.9m $37.8m
8 (7) Smallfoot (Warner Bros) Warner Bros Pictures International $4.8m $72.6m
9 (8) Night School (Universal) Universal Pictures International $3.2m $71.4m
10 (20) Mid90s (A24) A24 $2.9m $3.3m