Despicable Me, the first production from Chris Meledandri's Universal-owned Illumination Entertainment, heralds the arrival of a new star player in CG-animation. Mike Goodridge talks to Meledandri about his production model and to Universal Pictures International chief David Kosse about the film's stellar global performance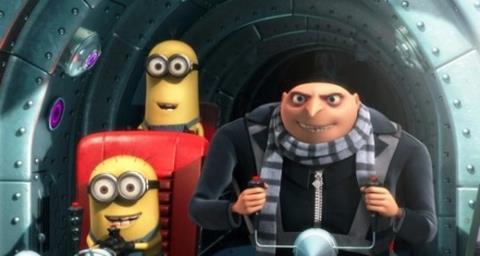 At time of going to press, Despicable Me, the first CG-animated film from Universal Pictures, had taken $278.3m from 47 international territories and was still going strong. Since its July 9 domestic release, it has taken $249.2m in North America, and its worldwide total will probably end up in the $550m-$600m region.
Universal Pictures International (UPI) president David Kosse, says it is the highest gross for a CG-animated original to date with the exception of a few Pixar titles such as Up and Ratatouille whose studio brand is so strong as to render them as effective as sequels.
"For me protecting the creative process means working in a profitable environment"

Chris Meledandri, Illumination Entertainment
"It's been fantastic for us to be able to come and launch into the CG world like this," he says. "Typically, international markets aren't so strong on an original like this but they pick up on DVD and deliver strongly on the sequel. But people loved this film and we knew we had something special at the beginning."
Even more impressive is Despicable Me's budget. At $69m, the film cost a good deal less than what Pixar and DreamWorks Animation spend on their tentpole pictures, which are usually in the $120m range or higher. On a budget to gross ratio, it is set to become one of the most profitable films ever for a studio.
The visionary behind Despicable Me is Chris Meledandri, the same man who launched an animation division at 20th Century Fox with the acquisition of Blue Sky Studios in 1998. At Fox, where he spent 13 years, he launched the Ice Age franchise with a similarly low-budget first instalment at just $58m. Ice Age is one of the biggest movie franchises in history and its international value is stunning — the third film in the series grossed $690m of its worldwide $887m total outside North America.
On leaving Fox in 2007, Meledandri established an independent company, subsequently named Illumination Entertainment, and signed a five-year deal with Universal. The original idea was to bring in third-party finance, but last year Universal stepped up to take over 100% of the company.
What Meledandri had pioneered with Ice Age was the notion that CG-animated movies do not need to be budgeted in the $100m-plus range.
"There are certain scenes that need to give the audience a visceral thrill, where the sensation of the scene for the audience is very important, and we spare no expense on those," Meledandri explains. "Other scenes will focus on the performance of the main characters. The efficiency comes in when we may choose to have the background simpler and less distracting or have fewer characters populate the frame."
This is just one of the facets of Illumination's cost-effectiveness. Meledandri and his teams also strive to work through key story challenges prior to the animation process so a higher percentage of footage ends up in the finished film. "One of the pitfalls of animation is solving story issues late in the process," he says. "We try to solve these issues early on knowing we have to adhere to standards of efficiency."
In addition, Illumination does not employ a large workforce of animators on a full-time basis but creates its animation teams for each film, wherever they may be located. In the case of Despicable Me and the currently in-production The Lorax, Illumination enlisted Paris-based CG effects and animation studio Mac Guff to provide a workforce of animators. Meledandri's producing partner Janet Healy and associate producer Robert Taylor relocated to Paris to oversee the day-to-day production process. "I have a few editing rooms in Santa Monica and we link up with Paris every morning," he says. "We are both looking at the same material on the Avid and replicating the sense of being in the same physical space."
In marketing terms, Meledandri worked closely with Kosse and UPI to build a worldwide campaign for the film, travelling early on in the production process of Despicable Me to meet UPI managing directors around the globe. "David and [UPI executive vice-president distribution] Duncan Clark thought it was important for me to explain to them what my objectives were face to face, and these meetings are tremendously informative for me.
"When you have two and half years to work on a project, you get to try a lot and experiment"

David Kosse, Universal Pictures International
Many of the territories are very knowledgeable about animation and really gave me a deeper understanding of their audiences and how they perceive animated films. They have also told me specific marketing challenges that we might not face in the US and needs that I can help address in the film's production."
For Kosse, Despicable Me was the first studio CG-animated movie he had worked on and he enjoyed the flexibility the extended production period allowed him and his marketing team. "When you have two-and-a-half years to work on it, you get to try a lot and experiment," he says. "Promotions and marketing could try different things and inform each other what was working."
For the release, UPI waited until after two other 3D CG behemoths, Toy Story 3 and Shrek Forever After, had opened around the world in June and July. "We decided to take the roll-out pattern which has worked well for Pixar in the past, which is to go day-and-date in Russia for obvious [piracy] reasons, Latin America in July, September in Australia and October for the school holidays in Europe. It's a tried and true pattern."
Illumination's next film is Hop, a part-CG, part-live action comedy starring Russell Brand as the Easter Bunny which is scheduled to open in April 2011. The Lorax, a 3D CG-animated film of the Dr Seuss book, is set for a March 2012 opening. In development are the inevitable sequel to Despicable Me, a stop-motion animation version of The Addams Family which Illumination is working on with Tim Burton, a new film of Universal property Curious George and Flanimals, an animated 3D film of the book series by Ricky Gervais.
So is Meledandri tempted to spend more now he has his first blockbuster in the Universal fold?
"Some companies like to roll the dice for blockbuster success every time out and their business model works only if the film is a blockbuster success," he says. "I define success as profitability. For me, protecting the creative process means working in a profitable environment."
DESPICABLE ME: TOP 10 INTERNATIONAL OPENING Weekend Grosses
#
Territory
Rel. date
1st w'knd
1
UK
15/10/10
$5,938,571
2
France
06/10/10
$5,652,314
3
Germany
30/09/10
$5,561,302
4
Italy
15/10/10
$4,993,355
5
Australia
09/09/10
$4,492,837
6
Mexico
30/07/10
$4,381,116
7
Spain
08/10/10
$3,512,226
8
Russia
08/07/10
$3,350,039
9
Brazil
06/08/10
$3,093,786
10
Japan*
29/10/10
$3,087,970
*UPI released in all territories, apart from Japan where the film was released by Toho-Towa. Opening weekend figure includes paid previews (if any). Source: UPI
TOP 10 ANIMATED FILMS BY WORLDWIDE GROSS, 2005-10
#
Title
Dist
Release date
Domestic opening weekend gross
Domestic gross total
International gross total
Worldwide
gross total
1
Toy Story 3
WDSMP
18/06/2010
$110.3m
$414.6m
$647.7m
$1.1bn
2
Ice Age: Dawn Of The Dinosaurs
20th Fox
01/07/2009
$41.7m
$196.6m
$691.3m
$887.9m
3
Shrek The Third
Par
18/05/2007
$121.6m
$322.7m
$476.3m
$799m
4
Shrek Forever After
Par
21/05/2010
$70.8m
$238.4m
$499.5m
$737.9m
5
Up
WDSMP
29/05/2009
$68.1m
$293m
$438m
$731m
6
Ice Age: The Meltdown
20th Fox
31/03/2006
$68m
$195.3m
$456.3m
$651.6m
7
Kung Fu Panda
Par
06/06/2008
$60.2m
$215.4m
$416.5m
$631.9m
8
Ratatouille
WDSMP
29/06/2007
$47m
$206.4m
$417.3m
$623.7m
9
Madagascar: Escape 2 Africa
Par
07/11/2008
$63.1m
$180.2m
$419.5m
$599.7m
10
Despicable Me*
Uni
09/07/2010
$56.4m
$249.2m
$278.3m
$527.5m
*Still on release. Figure to Nov 21. Sources: domestic figs supplied by Rentrak. International and worldwide figs collated from various sources.