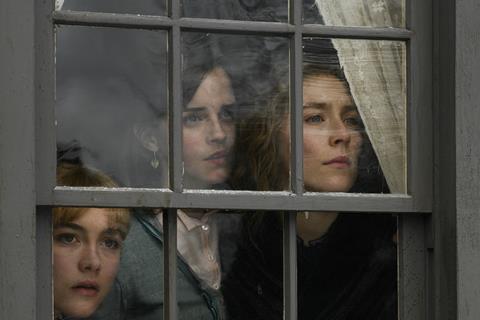 As cinemas around the world gradually reopen, Sony Pictures Releasing International executives on Sunday (June 14) reported that Greta Gerwig's Little Women scored a number one debut in Japan as it inched towards the $100m international milestone.
The period drama starring Florence Pugh, Saoirse Ronan, Emma Watson, Eliza Scanlen, Timothée Chalamet and Laura Dern grossed $760,000 from 440 screens in 13 markets for an international running total of $99.5m, powered by a $495,000 result in Japan on 300 screens.
Little Women stayed top in its second session in Denmark, dropping a mere 15% to $255,000 for a $750,000 running total after 10 days.
According to the studio, the cumulative total is comparable to pre-Covid levels and tracks ahead of the January releases of the film in Sweden ($568,000) and Norway ($694,000) at the same point in release.
Local-language South Korean crime drama Gyul-Baek (aka Innocence) from Sony Pictures International Productions opened top on $2.4m over five days on 985 screens and delivered a mighty Naver audience score of 9.74.
Park Sang-Hyun wrote and directed the film about a lawyer who defends her estranged mother in a murder trial and uncovers the secrets of a small village.