Screen Gems' comedy Think Like A Man Too opened on $30m to finish approximately $1m ahead of Sony stablemate 22 Jump Street, which powered past $100m in its second weekend.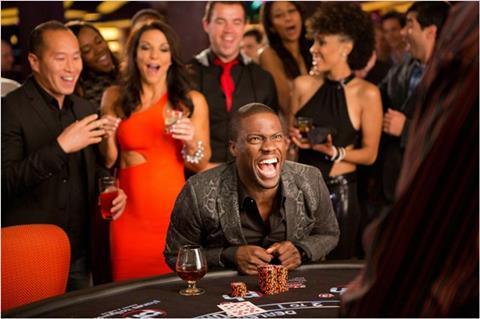 Warner Bros' generally lacklustre start to summer continued as Clint Eastwood's Jersey Boys arrived at number four on $13.5m from 2,905 sites. Unsurprisingly, the studio said 71% of the audience was aged over 50 and executives are expecting it to hold steady in the weeks to come.
By comparison Universal's Ray opened on $20m in second place from 2,006 sites in October 2004, which adjusts to $25m when inflation is factored into the calculation.
Think Like A Man Too launched in 2,225 theatres and stars returning ensemble cast members Michael Ealy, Kevin Hart, Gabrielle Union, Regina Hall and Taraji P Henson and once again Tim Story directed.
The debut trailed the $33.6m opening weekend of the April 2012 predecessor, which translates to $34.8m when adjusted for inflation. The original went on to gross $91.5m in North America.
Whether or not it will be confirmed as the weekend champion on Monday, 22 Jump Street is doing its studio proud and dropped 49% to add $29m from 3,306 for $111.5m in the second session. Jonah Hill and Channing Tatum star.
DreamWorks' How To Train Your Dragon 2 reached $95.2m after two sessions and is tracking on par with the 2012 original.
Maleficent has generated $185.9m for Disney after four weekends and more than $521m worldwide to rank as the biggest live-action release of Angelina Jolie's career.
Fox's X-Men: Days Of Future Past stands $216.8m after five and is closing in on $500m internationally.
Warner Bros' Edge Of Tomorrow has mustered a dismal $74.5m after three, although the sci-fi action release has surged past $200m internationally.
Godzilla has brought a smile to studio executives' faces and stands at $194.9m after six and $282m internationally.
In limited release arena, IFC opened Roman Polanski's French–language psycho-thriller Venus In Fur starring Mathieu Amalric and Emmanuelle Seigner on $26,2000 from two sites, while Paul Haggis' Third Person delivered $42,000 from five through SPC.
Oscilloscope opened Coherence on $17,000 from two sites and Cohen Media Group delivered the Jean Reno French comedy Le Chef on $10,900 from a single venue.
Overall box office for the top 12 dropped 21% against last weekend and fell around 40% against the same session in 2013, a harsh comparison given that Monsters University and World War Z completed a one-two sweep that combined for $148m.
This week most of the studies go into hibernation as Paramount prepares to unleash Michael Bay's Transformers: Age Of Extinction starring Mark Wahlberg on June 27.
Estimated Top 10 North America June 20-22 2014
Film (Dist) / Est wkd gross / Est total to date
1 (-) Think Like A Man Too (Screen Gems) SPRI $30m –
2 (1) 22 Jump Street (Sony) SPRI $29m $111.5m
3 (2) How To Train Your Dragon 2 (DreamWorks Animation-Fox) Fox International $25.3m $95.2m
4 (-) Jersey Boys (Warner Bros) WBPI $13.5m –
5 (3) Maleficent (Disney) WDSMPI $13m $185.9m
6 (4) Edge Of Tomorrow (Warner Bros) WBPI $10.3m $74.5m
7 (5) The Fault In Our Stars (Fox) Fox International $8.6m $98.7m
8 (6) X-Men: Days Of Future Past (Fox) Fox International $6.2m $216.8m
9 (10) Chef (Open Road) Aldamisa International $1.8m $16.9m
10 (7) Godzilla (Warner Bros) WBPI $1.8m $194.9m