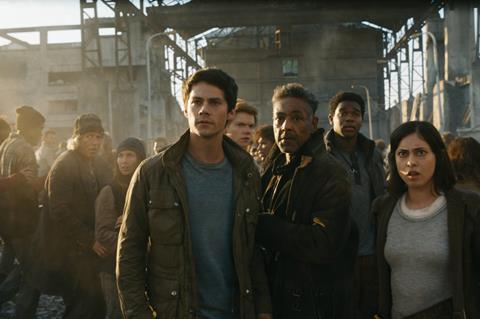 FEBRUARY 5 UPDATE: Maze Runner: The Death Cure brought in a $35.5m to reach $143.2m, while Sony's Jumanji: Welcome To The Jungle crossed $850m worldwide, and Coco became Pixar's seventh title to cross $700m worldwide.
FOX INTERNATIONAL
UPDATED: Maze Runner: The Death Cure opened in Mexico on $3.1m, Germany on $2.5m, and Italy on $1.4m, while China generated $4.9m for $37.2m after two weekends.
A further $1.8m in the UK boosted the tally for The Death Cure to $5.8m after two, while in other second sessions, $1.9m in Russia propelled the film to $7.5m, and $1.4m in Indonesia resulted in $4.9m.
The Greatest Showman added $16.2m for $153.1m. It debuted in China through Bona on $7.4m, and grossed $2.9m in the UK for $31.3m after six sessions. A number one Philippines debut delivered $848,000.
Three Billboards Outside Ebbing, Missouri grossed $8.3m for $46.3m and added $1.2m in the UK for $12.7m after four sessions. Ferdinand added $5.9m for $187.4m and has reached $22.5m in China after three weekends.
The Shape Of Water brought in $4.4m to stand at $19.5m. The fantasy drama added $997,000 in DGA best director winner Guillermo del Toro's native Mexico and stands at $11.6m after four weekends. It debuted in Brazil on $890,000, Chile on $237,000, Hong Kong on $227,000, and central America on $224,000.
PATHÉ
Olivier Baroux's comedy Les Tuche 3 starring Jean-Paul Rouve, Isabelle Nanty and Claire Nadeau grossed $14.3m.
SONY PICTURES RELEASING INTERNATIONAL
UPDATED: Jumanji: Welcome To The Jungle crossed $500m internationally and $850m worldwide. A $13.8m boosted the international running total to $505m, and China is the top market on $74.6m, followed by the UK on $47.9m and Australia on $36.3m.
Insidious: The Last Key added $6.3m for $90.2m and arrived in South Korea on a franchise record $2.6m. The top market is Indonesia on $9.1m. Call Me By Your Name added $1.9m for $9.2m.
WALT DISNEY STUDIOS MOTION PICTURES INTERNATIONAL
UPDATED: Coco crossed $700m worldwide following a $13.2m weekend. International markets added $11.6m for $496.7m with $500m within sights this week. The Pixar release becomes the company's seventh to reach $700m worldwide and the sixth Disney release of 2017 to do so.
Star Wars: The Last Jedi added $5m for $1.320bn worldwide and stands at $706.1m internationally. In Australia, the sci-fi epic ranks as the third biggest release in history behind Avatar and Star Wars: The Force Awakens.
THE POST

Steven Spielberg's drama The Post generated $11m through Amblin Partners territories and Universal Pictures International to reach $40.2m. It opened top in Italy through Leone Film Group on $2.6m, arrived in Hong Kong through Intercontinental at number three on $381.000, and opened in Argentina through Universal at number three on $351,000.
STUDIOCANAL
Thriller The Commuter starring Liam Neeson grossed $8.9m to reach $50.3m.
UNIVERSAL PICTURES INTERNATIONAL
UPDATED: Working Title's Darkest Hour grossed $7.1m to reach $65.8m and brought in a further $2.3m in its fourth session in the UK to stand at $25.9m. The film's worldwide tally stands at $114.6m.
New openers were Sweden on $189,000 and Turkey on $48,000. Italy has reached $4.2m after three weekends, Australia $4.1m after four, and Germany $2.3m after three, and France $4.6m after five.
Paul Thomas Anderson's Phantom Thread added $3.1m for an early $3.2m and rolled out in 20 markets at the weekend. The UK led the way on $901,000, followed by Spain on $547,000, and Germany on $403,000.
Happy Death Day stands at $62.2m and Pitch Perfect 3 $78.7m. Woody Woodpecker has amassed $10.7m.
STX INTERNATIONAL
Gerard Butler thriller Den Of Thieves debuted in 13 international territories this weekend to bring in $6,5m for an early $9.1m running total. The UK generated $1.5m, German-speaking Europe $1.4m (Germany $1.05m), the Middle East $1.6m, and Australia $1.07m.
All The Money In The World opened in eight territories and delivered $1.6m for $19.3m, including the UK where Sony distributes. Australia crossed $3.5m in its fifth weekend.
LIONSGATE INTERNATIONAL
UPDATED: The Julia Roberts-Jacob Tremblay drama Wonder grossed $5.8m for $147.5m as the worldwide box office hit $278.4m. The film has become Lionsgate's highest achiever of all time in Israel on $4.6m after 12 weekends, and stands at $4.3m in Germany after two weekends. Brazil remains the lead market on $28.1m.
12 Strong added $2.8m for $8.7m and debuted in South Korea on $997,000. The lead market is the Middle East on $2.1m after three sessions, followed by the UK on $1.1m after two. My Little Pony: The Movie opened in China on $2.7m and stands at $33.7m overall.
SIERRA/AFFINITY
I, Tonya added $1.6m for $4.5m and grossed a further $1.1m in Margot Robbie's home turf Australia for $3.6m after two. Molly's Game added $1.9m for $22.9m and debuted in Australia via eOne on $816,000.
WARNER BROS PICTURES INTERNATIONAL
UPDATED: Geostorm added $922,000 in Japan to reach $8.2m after three weekends and continued to rank as the top US film in the market. Overall the film stands at $184.7m internationally. China is the lead market by some way on $65.3m, followed by Russia on $10.1m.