Paramount/Skydance's Mission Impossible: Rogue Nation heads into the second session and will have to muster all its charm to resist the advance of Fantastic Four.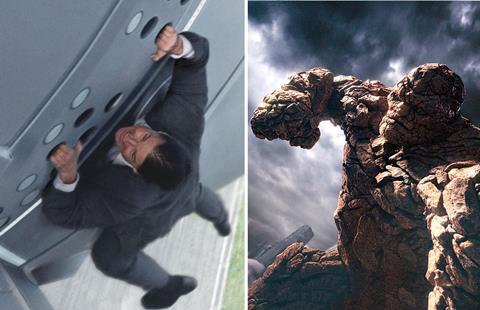 Tom Cruise has coaxed $89.4m out of audiences in around 40 territories and infiltrates Germany, Russia, Spain and Japan this weekend via Paramount Pictures International.
Terminator: Genisys has reached $232m.
However all eyes will be on Will Cruise's alter ego Ethan Hunt. Does he have enough to fend of the challenge of Fantastic Four? Despite abysmal reviews in the US should trade on the name alone to pack a considerable punch in its opening weekend.
The film arrives day-and-date with North America through Fox International in approximately 48 markets including the UK, Australia, Argentina, Brazil, France, Mexico, Taiwan and Hong Kong.
The YA adaptation Paper Towns stands at $27.2m and opens in Spain, while Spy has grossed $124.1m and Dragon Ball Z: Resurrection F $51.7m. Kwai Boo arrives in China and True Story opens in Germany.
Universal Pictures International's Jurassic World has taken $930m and stomps into Japan, while Universal and Illumination Entertainment's Minions has reached $589m.
Trainwreck stands at an early $900,000 and hits Australia, Portugal, Venezuela and six smaller markets, Pitch Perfect 2 on $99.4m and Ted 2 $82.1m.
Sony Pictures Releasing International's Pixels has amassed $63.8m and Insidious: Chapter 3 $57m from Sony territories only.
Marvel Studios' Ant-Man has reached $169m via Walt Disney Studios Motion Pictures International with no new territories this weekend.
Pixar's Inside Out stands at $286.1m and debuts in Taiwan and Lebanon, while Marvel Studios' Avengers: Age Of Ultron has grossed $942.1m.
Warner Bros Pictures International brass report that Magic Mike XXL has reached $48m, The Gallows $14.3m and Vacation an early $600,000.