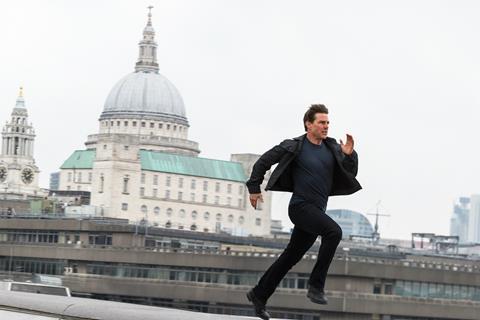 Action thriller Mission: Impossible – Fallout starring Tom Cruise has grossed a record $11.1m on its international opening day, accoring to Paramount Pictures International executives.
Studio executives released the numbers on Friday as the film heads into 40% of the international market this weekend day–and-date with North America.
Friday's opening numbers are tracking some 13% ahead of Mission: Impossible Rogue Nation and rise to $15.1m including previews.
Opening top in all of the following markets, the latest entry in the franchise arrived in South Korea on $2.8m and 64% market share, rising to $6.3m with previews. In the UAE it debuted on $950,000, and $1.9m across the Middle East.
Russia delivered $906,000, and Indonesia $778,000 rising to $1.7m after two days. Brazil produced $683,000 and $910,000 including previews, while Hong Kong, Malaysia, and Thailand generated $528,000, $450,000 and $434,000, respectively.
Studio brass also announced the film will now open in China on August 31.
Cruise stars in Mission: Impossible – Fallout alongside Simon Pegg, Ving Rhames, Rebecca Ferguson, Henry Cavill, Angela Bassett, and Sean Harris. Christopher McQuarrie wrote and directed.