NOV 30 UPDATE: The Hunger Games: Mockingjay - Part 2 resisted a dazzling Chinese debut from The Martian to hold on to pole position in the international arena thanks to an estimated $63.1m weekend haul.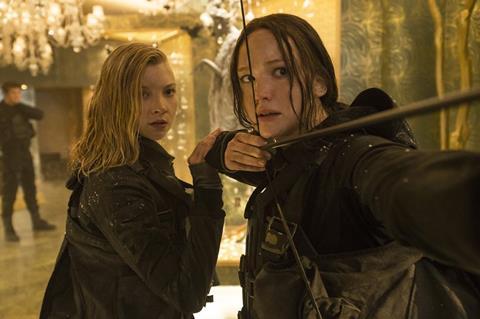 LIONSGATE INTERNATIONAL
UPDATED: The action adventure stands at $243.7m after 12 days of release and $442m globally. The four-film franchise has reached $2.7bn worldwide.

The UK is the lead market on $29.4m followed by Germany on $25.7m, China on $21.3m, Mexico on $14.7m, Australia on $12.7m and France on $12.6m.
FOX INTERNATIONAL
UPDATED: The Martian made good use of a storyline that features a life-saving collaboration between the Americans and Chinese to storm into China on number one and an estimated $49.9m on 4,848 screens over five days.
Approximately $6.6m of that amount came from 249 Imax screens. Indeed Imax generated more than $15m worldwide across several films including Mockingjay 2 and Spectre.

Overall the film grossed $51.6m from 38 markets to soar to $326.9m and overtook Prometheus' $278m to rank as director Ridley Scott's biggest international release.

The space thriller has amassed $19.7m in France after six sessions, $19.3m in Australia after nine, $16.4m in Germany after eight and $12.2m in Spain after seven. Japan will be the final market to release in February.
Horror-drama Victor Frankenstein starring Daniel Radcliffe and James McAvoy opened day-and-date with its disappointing North American debut in 25 markets, grossing $9.9m.

Russia was the top market on $1.9m from 1,277, while Mexico generated $1.7m from 1,174, Venezuela $1.1m from 62 and Brazil $671,000 from 406.
DreamWorks' Bridge Of Spies added $7.4m from 51 markets for $27.9m. Steven Spielberg's Cold War tale opened at number four in the UK on $2.5m from 612 and also landed in fourth place in Germany on $900,000 from 504. Peanuts stands at $10.9m and Bollywood hit Prem Ratan Dhan Payo $40.9m.
WALT DISNEY STUDIOS MOTION PICTURES INTERNATIONAL
Pixar's The Good Dinosaur - a number two debut in North America over Thanksgiving weekend - opened in 29 territories on $28.7m.

The traditional staggered international roll-out for a Pixar film produced $4.3m in the UK, $3.6m for number one in Mexico, $3.2m in France, $2.2m for number one in Argentina and $2.1m in Russia. Italy delivered $2m, Spain $1.8m and Germany $1.4m.
SONY PICTURES RELEASING INTERNATIONAL
UPDATED: Sony, MGM and EON Productions' Spectre added $30.4m via Sony and MGM markets to propel the running total to $574.6m after five weeks and $750m worldwide. Imax produced $2.3m from 240 screens as the worldwide tally reached $749.6m.

The UK stands at $136.3m following a $3.3m haul in the fifth weekend and has grossed 77% of the $176.1m North American tally, albeit after one more week in release.

China added $2.3m for $83.4m after three weekends. Germany produced $4.5m for $56.9m after four weekends, France $4.3m for $29.8m after three and Australia $2.5m for $18.5m after three.

Spectre stayed top in The Netherlands for the fifth weekend on $1.3m for $15.8m to become the biggest film of the year-to-date. It held on to number one for the fourth session in German-speaking Switzerland, where $899,000 boosted the tally to $10.2m. India has generated $7.4m after two.

Of the MGM markets, the fifth session saw Denmark continue to excel on $512,000 for $12.3m, while Sweden delivered $489,000 for a stellar $10.9m.

Spectre reclaimed top spot in Finland on $318,000 for $7.4m to become the second biggest release in history behind Titanic. In Norway $304,000 raised the score to $8.7m.

Hotel Transylvania 2 added a further seven markets and grossed $4.8m from 75 to reach $270.3m with South Korea still to come on December 24.

The family sequel opened top in Australia on $1.8m from 414 and added $325,000 in its seventh session in the UK for $29.8m. Mexico has generated $23.9m, Venezuela $21.8m, China $18.7m and Russia $17.7m.

The Lady In The Van continues to fly in the UK as $1.4m from 528 boosted the running total to $13.8m after three weeks.
ASIA UPDATE
Our Times added $13m for $59m, while Inside Men added $9.7m for $25m and Bad Guys Always Die launched on $4.7m.
UNIVERSAL PICTURES INTERNATIONAL
UPDATED: Universal executives reported the studio's box office in Spain for the year-to-date has crossed €143.4m, which it said was the highest box office ever achieved by any company in one year in Spain.
Ocho Apellidos Catalanes (Spanish Affairs 2) stayed top in Spain in its second weekend as $5.7m from 394 venues elevated the tally to $17.5m.

After nine days the film usurped Fast & Furious 7 to rank as the fifth biggest release in Spain so far in 2015 behind Minions, Jurassic World, Inside Out and Fifty Shades Of Grey.
The Hunger Games: Mockingjay - Part 2, which Universal releases in Italy, held on to number one as $1.7m raised the tally to $7m.

The Visit opened in its final markets of Brazil, Italy, Russia, Bolivia and Uruguay and the weekend haul of
$1.9m boosted the running total to $30.1m.
Australian hit comedy The Dressmaker stands at $11.9m in Australia and New Zealand, reaching $10.8m in Australia and $1.1m in New Zealand.
Steve Jobs has grossed $6.1m from 19 territories, while Angelina Jolie's By The Sea took $318,000 from 19 for an early $1m.

The film opened in limited release in 10 territories this weekend: Australia, Croatia, Finland, Hong Kong, Israel, Lebanon, Middle East Region, Netherlands, Norway and Thailand. Australia was the biggest catch on $105,000 from 51.

Legendary's Crimson Peak has reached $42.9m.
WARNER BROS PICTURES INTERNATIONAL
cCreed took $2.5m from seven territories and arrived in Australia on $1.2m from 188 screens. Creed is an MGM production in association with New Line and is marketed and distributed by Warner Bros.

Black Mass added $3.4m for $27.4m and opened in the UK on $1.9m from 532 screens and in France on $1m from 275. Italy is the top market so far on $2.5m.
PARAMOUNT PICTURES INTERNATIONAL
Scouts Guide To The Zombie Apocalypse stands at $10.3m and Paranormal Activity: The Ghost Dimension $59.2m.