Resident Evil: Afterlife doubled the opening weekend totals of previous instalments in the action-horror franchise on its way to securing a number-one debut at the UK box office.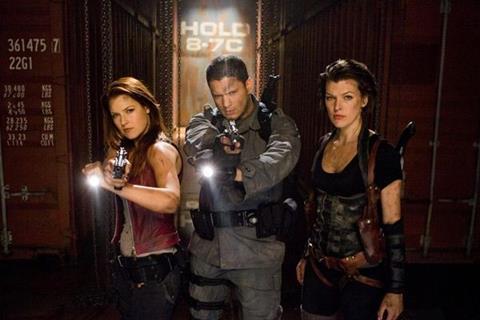 Sony's fourth film in the Resident Evil series grossed $2.5m (£1.6m) from 361 for a decent screen average of $7,214 (£4,683), and should surpass the final performances of the previous three films, the highest grossing of which was the 2002 original, Resident Evil, which took $4.2m (£2.7m).
The latest episode in the Milla Jovovich starring adaptation of the popular computer game is the first to be shot in 3-D. The rewards have been instant, with 95% of the film's revenue coming from 3-D receipts. Resident Evil's success this week, combined with Optimum's first UK number one last week with horror The Last Exorcism, is no doubt partly a result of children retuning to school. We'll know more about whether the UK is suffering from animation fatigue when Despicable Me hits screens in October.
Sony currently has three films in the top 11 best UK performers and is $15.4m (£10m) behind eOne in seventh place on the UK distributors' marketshare list. Sony has 5.15%, eOne 6%, and fifth placed Universal a seemingly unassailable 10%. However, in The Other Guys, Eat Pray Love and The Social Network, Sony has some of the bigger titles in the coming weeks.
Optimum's aforementioned horror The Last Exorcism fared commendably in its second week, taking $1.1m (£730,395) from 317 screens for a $3,837 (£2,491) average. Daniel Stamm's France-US thriller was one spot ahead of Momentum's newcomer Tamara Drewe, which entered the chart in fifth place. The Gemma Arterton drama-comedy, directed by Stephen Frears, managed $948,295 (£615,553) from 358 screens.
There were top ten debuts for Warner Bros.' comedy-romance Going The Distance, which entered the chart in seventh position after taking $674,091 (£436,361) from 360 screens at an average of $1,866 (£1,212) and Fox's eighth placed comedy-drama Cyrus, which took $662,008 (£429,919) from 261 screens at a per-print average of $2,535 (£1,647).
Eros' Uttar Pradesh-set action-thriller Dabangg was the only other new top 20 entry, grossing $512,134 (£332,673) from 41 screens at a per-print high of $12,491 (£8,114).
Warner Bros.' Inception passed Disney's Up to become the 40th best performing film ever in the UK. Christopher Nolan's thriller has now taken $53.3m (£34.6m) and is the longest running film in the top 20.
This week sees the release of Sony's The Other Guys, Fox's Just Wright, Universal's Devil, Revolver's The Kid and Artificial Eye's Sundance Grand Jury Winner Winter's Bone.