Latest Bond mission now biggest-ever non-3D film and fourth biggest overall in UK history following a storming estimated $18.2m (£11.4m) third weekend.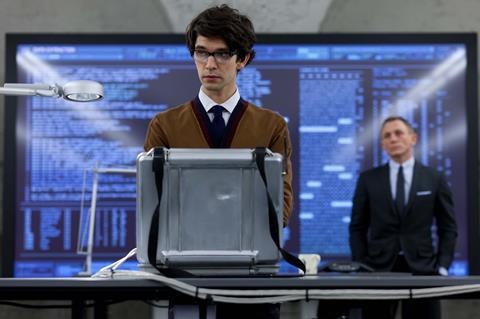 Having become the UK's eighth biggest film on Thursday, Skyfall has continued on its seemingly relentless march up the all-time chart.
If the estimate holds up, Skyfall will have notched an astonishing $18.2m (£11.4m) third weekend (the biggest ever in history), with the latest Bond mission now up to a formidable $115.8m (£72.9m), through Sony, to make it the biggest-ever non-3D film in the UK. It's currently fourth in the all-time list, behind Avatar, Toy Story 3 and Harry Potter and the Deathly Hallows: Part 2, but will overtake Toy Story 3 ($116.2m/£73.1m) and Deathly Hallows ($117.3m/£73.8m) this week.
It's a minor matter but it's worth noting that if the grosses of Titanic and its 3D re-release earlier this year, Skyfall would currently be the fifth highest grosser as the combined Titanic haul is $127.1m (£80.1m).
Avatar's mighty $149.4m (£94m) remains in its path to UK box office supremacy, yet the arrival of the climactic Twilight instalment this week might be the film to put the brakes on Skyfall's march as a result of lowering Skyfall's screen count, currently at almost 1,800.
Given its unheard-of run to date though, it'd be a brave man who bets against Skyfall chasing down Avatar's haul.
Madagascar 3: Europe's Most Wanted continued to hold firm to remain rooted in second. Paramount's animated threequel added an estimated $2.4m (£1.5m) to cross the $30m barrier and stand at $31.3m (£19.7m).
It's still tracking ahead of both previous instalments in the popular franchise: Madagascar stood at $29.8m (£18.7m) and Madagascar: Escape 2 Africa had amassed $25.5m (£16m) by the end of their fourth weekends.
The week's highest new entry belonged to Warner Bros' well-received thriller Argo. Ben Affleck's third outing as director was bolstered by opening on Wednesday and recorded a $2.1m (£1.3m) debut from its 336 sites.
That result marks Affleck's best-ever opening as a director in the UK, although the Friday to Sunday haul of $1.6m (£1m) is on par with that of The Town which opened on slightly less sites (321) and went on to take $8.1m (£5.1m) in its run.
Sony's Here Comes The Boom debuted with a distinctly underwhelming $750,000 (£470,000) from its 350 screens, director Frank Coraci's worst-ever debut in the UK.
Australian box office hit The Sapphires was the week's only other new entry in the top ten as it sung its way to $536,000 (£337,625) from its 233 sites for eOne in seventh. Looper has now taken a strong $16.1m (£10.1m) while The Perks of Being a Wallflower is up to $3.6m (£2.2m).
Also for Sony, Hotel Transylvania has now spooked up $11.8m (£7.4m), while Fox's action sequel Taken 2 stands at $36.9m (£23.2m) after six weeks in play.
Lionsgate's horror sequel Silent Hill: Revelation could only manage a $400,000 (£252,000) second weekend to stand at $2.7m (£1.7m). It's now unlikely to match the original's $5.7m (£3.6m) overall tally.
Jacques Audiard's Rust and Bone added $248,000 (£154,806) in its second weekend for $870,000 (£547,837) to date through StudioCanal whose Beasts of the Southern Wild has taken $1m (£637,106) so far.
This week's only saturation release belongs to eOne's The Twilight Saga: Breaking Dawn - Part 2, the climactic part of the ever-popular franchise. Entertainment's The Master expands wide following its two-week 70mm run at the Odeon West End, while Universal's Mental also receives a wide release. Artificial Eye's Palme d'Or winner Amour is among the films receiving a limited release.