Spectre stands at $264.1m internationally through Sony and MGM and with 14 debuts including China, Australia and South Korea it is the favourite to dominate the international arena again this weekend.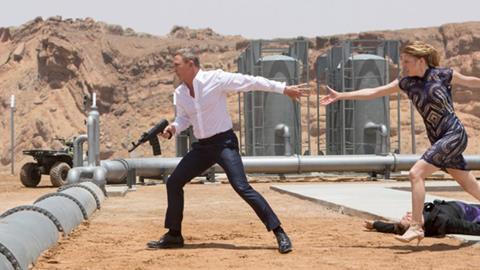 The James Bond escapade has raced to $220m via Sony Pictures Releasing International and a further $44.1m through MGM licensees.
The global haul has reached $311m and a $600m finish is not out of the question given this weekend's new wave of launches and that France and Japan are still to come.
Hotel Transylvania 2 has amassed $243.5m, while Goosebumps stands at $27.2m.
Fox International executives reported that The Martian has landed on $263.2m, while The Peanuts Movie stands at an early $4.8m.
Universal Pictures International's Everest has scaled $163.4m and Crimson Peak $40.4m.
Walt Disney Studios Motion Pictures International executives reported that Marvel Studios' Ant-Man has climbed to $338.4m and Pixar's Inside Out stands at $495.4m.
Monkey Kingdom opens in France this weekend and has taken an early $300,000.
Warner Bros Pictures International's fantasy adventure Pan has reached $82.6m and ventures into Italy this weekend, while Black Mass has grossed $21.5m and arrives in Brazil. Meanwhile The Intern has taken $110.6m.
Paramount Pictures International's Scouts Guide To The Zombie Apocalypse has taken an early $2.8m and Paranormal Activity: The Ghost Dimension stands at $52.6m.