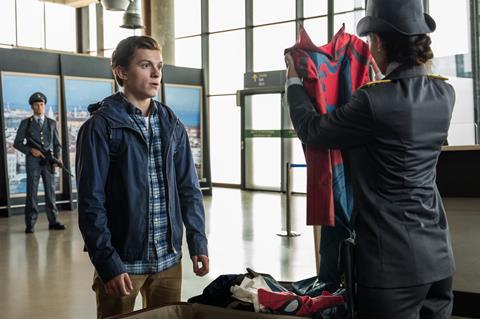 JULY 4 UPDATE: Spider-Man: Far From Home earned $27m in North America on Wednesday (3) for the biggest Wednesday gross of any film in the Marvel Cinematic Universe.
Combined with the opening day Tuesday record of $39.3m, the tentpole reached $66.3m by Thursday and more than $211.8m worldwide, not including update figures from the international arena such as China and the UK opening day.
ORIGINAL JULY 3 REPORT: Spider-Man: Far From Home got off to a fine start heading into the July Fourth holiday as Columbia Pictures brass reported the highest Tuesday opening day ever in North America on $39.25m, pushing the reported early worldwide tally to $184.8m.

The first film in the Marvel Cinematic Universe since spring smash Avengers: Endgame opened in an all-time high July theatre count of 4,634 venues. The opening day estimate puts Far From Home above the previous Tuesday record-holder The Amazing Spider-Man, which starred Andrew Garfield as the web-slinger and opened on $35m in July 2012.
Studio executives are projecting a $125m six-day opening weekend through Sunday. Observers and industry reports have suggested the tentpole starring Tom Holland could launch on more than $150m.
Spider-Man: Far From Home has grossed $145.5m so far from its first three releases last weekend, and stands at $128.4m in China, $11.4m in Japan, and $5.7m in Hong Kong. The worldwide running total stands at $184.4m, not including launches in Australia on Monday and in the UK and South Korea on Tuesday.
Far From Home swings into the rest of the world this week, launching in south-east Asia and France on Wednesday, Mexico, Brazil and most of Latin America, Russia, Germany, and the Middle East on Thursday, and Spain and India on Friday. The Italian release takes place on July 10.
Jon Watts directs from a screenplay by Chris McKenna and Erik Sommers, and the cast includes Samuel L. Jackson, Jake Gyllenhaal, Zendaya, Cobie Smulders, Jon Favreau, JB Smoove, Jacob Batalon, Martin Starr, and Marisa Tomei.
Kevin Feige and Amy Pascal served as producers, while the executive producers are Louis D'Esposito, Victoria Alonso, Thomas M. Hammel, Eric Hauserman Carroll, Rachel O'Connor, the late Stan Lee, Avi Arad, and Matt Tolmach.