DECEMBER 21 UPDATE: Buena Vista unwrapped a holiday season treat for fans and studio executives alike as JJ Abrams' sci-fi spectacular stormed to the top of the North American record books.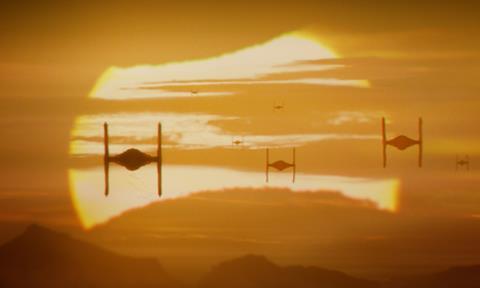 Star Wars: The Force Awakens debuted in 4,134 theatres and obliterated the previous opening weekend record of $208.8m set in June by Jurassic World as the film grossed a confirmed $247.9m in North America and $528.9m worldwide.
The new release also established Friday, opening day and single day industry marks of $119.1m. Executives will have their eyes on Jurassic World's $106.6m second weekend record, not to mention the third weekend water mark of $68.5m set by Avatar in 2009.
Star Wars: The Force Awakens
Biggest opening weekend: $247.9m
Biggest Thursday previews: $57m
Biggest Friday and single day: $119.1m
Biggest Sunday: $60.5m
Avatar holds the all-time North American box office record of $760.5m and Disney and Lucasfilm top brass will know that to beat that their tentpole will have to inspire multiple repeat visits.
Disney now holds four of the top five opening weekends. Jurassic World ranks second on $208.8m from earlier this year, followed at number three by Marvel's The Avengers on $207.4m in 2012, Avengers: Age of Ultronat number four on $191.3m from earlier this year and Iron Man 3 in fifth place on $174.1m in 2013.
As is stands they have everything going for them with a critical smash that plays across the four quadrants heading into the holiday season. John Boyega, Daisy Ridley, Adam Driver, Domhnall Gleeson, Oscar Isaac, Lupita Nyong'o, Andy Serkis and Gwendoline Christie star alongside Star Wars stalwarts Harrison Ford, Carrie Fisher and Mark Hamill.
Imax generated records too, delivering $48m across 667 global screens, the biggest ever one-day worldwide gross of $17.7m on Friday and a record North American opening weekend of $30.1m from 391.
RealD issued a statement to say that The Force Awakens grossed roughly 48% of its entire haul on 3D, of which around $78m came from RealD-equipped auditoriums.
Compared to The Force Awakens every other result appeared anaemic. However put into context Fox family film Alvin And The Chipmunks: The Road Chip arrived in second place on a truly lacklustre $14.3m in 3,653 sites given the $23.2m debut of Alvin And The Chipmunks: Chipwrecked in December 2011.
Universal opened the comedy Sisters starring Tina Fey and Amy Poehler on $13.9m in 2,962 venues in a lowly result in an otherwise spectacular year for the studio.
There were two notable debuts for Bollywood titles as UTV released Dilwale at number nine on $1.9m from 268 theatres and Eros opened Bajirao Mastani in tenth place on $1.7m from 304.
Spotlight ranks twelfth on $22.8m through Open Road after seven weekends, while Brooklyn at number 13 has grossed $16.5m via Fox Searchlight from seven sessions. Trumbo has amassed $6.3m through Bleecker Street after the same amount of time.
In the limited arena, SPC unleashed its foreign language Oscar frontrunner Son Of Saul on $37,930 in three venues.
Box office for the top 12 amounted to $305.6m and gained 339.5% against last weekend and 58.4% on the same period in 2014, which generated $126.9m.
This week's wide release are Will Smith drama Concussion through Sony; David O Russell's Jennifer Lawrence starrer Joy via Fox; Alcon Entertainment action thriller Point Break via Warner Bros; and Paramount comedy Daddy's Home with Will Ferrell and Mark Wahlberg.
Confirmed top 10 North America December 18-20 2015
Film (Dist) / Conf wkd gross / Conf total to date

1 (-) Star Wars: The Force Awakens (Buena Vista) Walt Disney Studios Motion Pictures International $247.9m –
2 (-) Alvin And The Chipmunks: The Road Chip (Fox) Fox International $14.3m –
3 (-) Sisters (Universal) Universal Pictures International $13.9m –
4 (1) The Hunger Games: Mockingjay – Part 2 (Lionsgate) Lionsgate International $5.9m $254.5m
5 (4) Creed (Warner Bros) Warner Bros Pictures International $5m $87.8m
6 (3) The Good Dinosaur (Pixar-Buena Vista) Walt Disney Studios Motion Pictures International $4.4m $96.7m
7 (5) Krampus (Universal) Universal Pictures International $4.1m $35.1m
8 (2) In The Heart Of The Sea (Warner Bros) Warner Bros Pictures International $3.5m $18.6m
9 (-) Dilwale (UTV) $1.9m –
10 (-) Bajirao Mastani (Eros) $1.7m –