Melissa McCarthy is queen of North America as an estimated $23.48m debut for The Boss via Universal edged Warner Bros' fast-fading Batman v Superman into second place.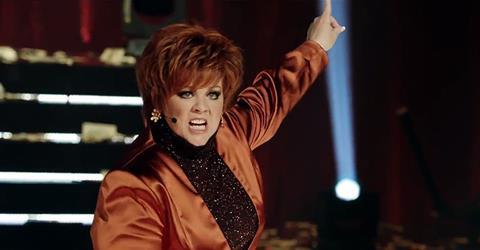 Meanwhile STX Entertainment's Toronto pick-up Hardcore Henry under-performed as it arrived at number five on a lowly $5.1m from 3,015 theatres.
Vaxxed: From Coverup To Catastrophe, the controversial documentary that was ejected from the upcoming Tribeca Film Festival line-up after uproar over the validity of its scientific claims, fell a huge 75.3% in its second weekend, adding $7,000 through Cinema Libre for $48,250.
The Boss, in which McCarthy plays a tough businesswoman who learns to express her kinder side, opened in 3,480 sites and delivered Universal its second number one of the year-to-date after Ride Along 2 ruled the charts for two weekends in mid-January.
Warner Bros' DC Entertainment release Batman v Superman: Dawn Of Justice fell a further 54.3% in its third session to rank number two just behind The Boss on $23.44m – although given the close margin their respective positions may well change when final numbers come in on Monday.
The superhero saga has amassed $296.1m in North America and $486.8m internationally for a $782.9m worldwide tally that is slowing down drastically as executives aim for a $1bn theatrical target to tip the film into profit.
Meanwhile STX top brass had their expectations dashed after going into the weekend with high hopes for Hardcore Henry, their R-rated action film acquired at the Toronto Film Festival last autumn that marked the fledgling studio's widest release yet.
However a $5.1m performance from 3,015 venues resulted in a $1,690 average and will be far below what they had anticipated, especially given the reported $10m acquisition fee and $20m P&A commitment.
Ancillary markets are expected to deliver a more robust life for Hardcore Henry, which is told from the perspective of a newly awakened cyborg on the trail of his wife's kidnappers in a violent Moscow setting. Timur Bekmambetov produced and Ilya Naishuller directed the film, which stars Sharlto Copley and Haley Bennett.
Disney's Zootopia ranks third on $296.6m after three weekends and will cross $300m any day now, while Gold Circle/Playtone's My Big Fat Greek Wedding 2 ranks fourth through Universal on $46.8m after three.
Elsewhere there was solid work from the faith-based films as Miracles From Heaven ranks sixth on $53.9m after four session through TriStar, while PureFlix's God's Not Dead 2 at number seven has reached $14.9m after two.
Warner Bros is maintaining a slow build for Jeff Nichol's acclaimed sci-fi drama Midnight Special and expanded the film from 58 to 493 theatres in its fourth session as $1.2m saw box office climb 110% and lift the film one place to number 14 for $2.3m.
Fox Searchlight opened last year's Toronto opener Demolition starring Jake Gyllenhaal at number 15 on a lowly $1.1m from 854 sites.
Two highly regarded foreign-language films leapt into action this weekend. Joachim Trier's drama Louder Than Bombs opened via The Orchard on $24,341 from four venues, while Gabriel Mascaro's Brazilian festival winner Neon Bull debuted on $7,133 from a single venue through Kino Lorber.
Overall the top 12 generated $95.8m and fell 22% against last weekend and dropped 23.7% against the comparable session in 2015.
This week's wide releases are The Jungle Book through Buena Vista; Lionsgate-Summit's action film Criminal; and comedy Barbershop: The Next Cut through Warner Bros.
Estimated top 10 North America April 8-10, 2016
Film (Dist) / Est wkd gross / Est total to date
1 (-) The Boss (Universal) Universal Pictures International $23.48m –
2 (1) Batman vs Superman: Dawn Of Justice (Warner Bros) Warner Bros Pictures International $23.44m $296.7m
3 (2) Zootopia (Buena Vista) Walt Disney Studios Motion Pictures International $14.4m $296m
4 (3) My Big Fat Greek Wedding 2 (Universal) Universal Pictures International $6.4m $46.8m
5 (-) Hardcore Henry (STX Entertainment) STX Entertainment $5.1m –
6 (5) Miracles From Heaven (TriStar) Sony Pictures Releasing International $4.8m $53.9m
7 (4) God's Not Dead 2 (PureFlix) PureFlix International $4.3m $14.1m
8 (6) The Divergent Series: Allegiant (Lionsgate-Summit) Lionsgate International $3.6m $61.8m
9 (7) 10 Cloverfield Lane (Paramount) Paramount Pictures International $3m $67.9m
10 (9) Eye In The Sky (Bleecker Street) eOne $2.8m $10.4m