Analyzing the international peformances of The Expendables, The Last Airbender, Toy Story 3 and more.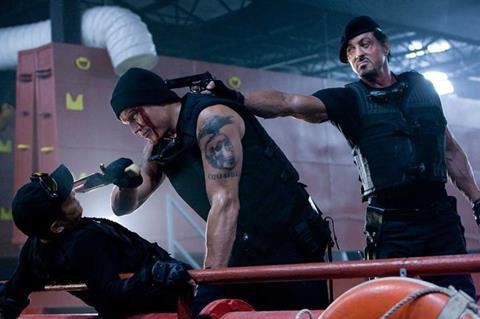 The Expendables blasted its way into top spot on the international scene over the Aug 20-22 weekend, grossing $35.5m from 4,501 screens, from various distributors around the globe. Sylvester Stallone's action-adventure opened in 14 territories, topping the charts in the UK ($6.1m, from 453 screens at an average of $13,419) and France ($4.7m from 445 screens at an average of $10,664).
The action-adventure took $14m more than its nearest rival Inception, despite playing in half the number of territories. The Expendables opens in Argentina and Germany this weekend and in Japan on Oct 16.
Paramount's The Last AIrbender jumped from eighth to third place on the international chart after opening in ten new territories. The action-fantasy recorded the week's biggest improvement in performance at 116%, making $20.2m for $95m. There were strong debuts in South Korea ($5.4mfrom 444 screens at a print average of $12,138) and Germany ($4.5m from 474 screens at a print average of $9,490). M Night Shyamalan's film opens in Australia in September and across Scandinavia in October.
Toy Story 3 slipped from second to fifth place on the chart, taking $12.3m for a cumulative international total of $581m. Disney's blockbuster will become only the seventh film ever to cross the $1bn mark worldwide this weekend, overtaking Warner Bros.' The Dark Knight as the sixth best performing film of all time in the process.
Step Up 3-D managed a decent $11.2m in only 23 territories for a total of $53.6m. The international crowd's appetite for the Step Up franchise is on the wane with Step Up 3-D's overseas total currently accounting for 13% less of the worldwide box office than that of Step Up 2: The Streets.
Paramount's Shrek Forever After saw a mightily impressive resurgence from 13th to seventh in its 14th week. The fourth instalment in the franchise grossed $10.7m for $455.5m and improved its weekly performance by 78 % after opening in two new territories.
Shrek Forever After has now doubled the box office of the first in the franchise and is $23m off the franchise's best performer Shrek 2. The oldest top 30 film is now the seventh biggest animated film on the international stage, having overtaken The Lion King last weekend. The comedy should surpass the sixth best animated performer Ice Age: The Meltdown this weekend. Mike Mitchell's film opens in Italy this weekend and hits Japan in December.
The only new top 20 entries were Toho's drama Hanamizuki (May Your Love Bloom 100 Years), which opened 13th after making $4.7m in Japan at a predictably impressive screen average of $15,041 and Yash Raj Films' romance Lafangey Parindey, debuting in 17th, taking $3.3m in 14 territories.