APRIL 18 UPDATE: If the live-action-CGI rendering of Rudyard Kipling's beloved tale seemed destined to become a Disney classic all over again, the opening weekend confirmed that notion as it stormed to the studio's biggest April debut in history.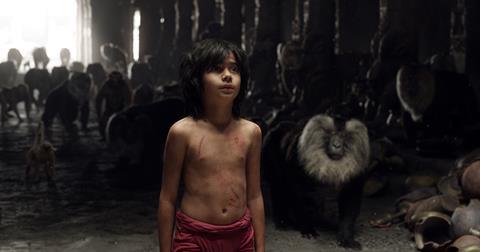 The Jungle Book's $103.3m confirmed haul ranks second in the all-time pantheon behind Universal's Furious 7 from last year on $147.2m.
Jon Favreau's adaptation dominated the international arena, too, and has soared to $293.2m worldwide after two weekends.
Meanwhile Warner Bros-MGM's comedy Barbershop: The Next Cut secured a number two debut on $20.2m and marked a return for the franchise after 12 years.
Opening weekend results were moderate as the new arrival trailed 2004's Barbershop 2: Back In Business by $4m, rising to roughly $10m when adjusted for inflation.
DC Entertainment's Batman v Superman: Dawn Of Justice at number four crossed $300m in its fourth session via Warner Bros, while Universal's comedy The Boss slipped two places to number three in the second weekend to reach $40.1m.
Lionsgate opened Summit's action film Criminal starring Kevin Costner and Ryan Reynolds at number six on a lacklustre $5.8m from 2,683 theatres.
STX Entertainment's flop Hardcore Henry dropped 72% and tumbled out of the top ten in its second session to rank eleventh on $1.4m for an $8.1m running total.
In the limited area, A24 opened Jeremy Saulnier's thriller Green Room to excellent results on $87,984 from three venues, while Sing Street arrived via TWC on $63,573 from five.
Box office for the top 12 amounted to $167.7m and climbed 76% on last weekend. The total gained 33.2% on the comparable session in 2015.
This week's wide releases are: Universal's The Huntsman: Winter's War starring Charlize Theron, Chris Hemsworth, Jessica Chastain, and Emily Blunt; and Elvis & Nixon from Bleecker Street starring Michael Shannon and Kevin Spacey. Amazon Studios will release the Tribeca world premiere on its platform 90 days after theatrical.
Confirmed top 10 North America April 15-17, 2016
Conf (Dist) / Est wkd gross / Conf total to date
1 (-)The Jungle Book (Buena Vista) Walt Disney Studios Motion Pictures International $103.3m –
2 (-) Barbershop: The Next Cut (Warner Bros-MGM) Warner Bros Pictures International $20.2m –
3 (1) The Boss (Universal) Universal Pictures International $9.9m $40.1m
4 (2) Batman vs Superman: Dawn Of Justice (Warner Bros) Warner Bros Pictures International $9m $311.3m
5 (3) Zootopia (Buena Vista) Walt Disney Studios Motion Pictures International $8.1m $307.4m
6 (-) Criminal (Lionsgate-Summit) Lionsgate International $5.8m –
7 (4) My Big Fat Greek Wedding 2 (Universal) Universal Pictures International $3.3m $52.1m
8 (6) Miracles From Heaven (TriStar) Sony Pictures Releasing International $1.9m $56.9m
9 (7) God's Not Dead 2 (PureFlix) PureFlix International $1.7m $16.9m
10 (10) Eye In The Sky (Bleecker Street) eOne $1.6m $13.1m