OCTOBER 26 UPDATE: Active in 75 markets, Ridley Scott's adventure hit dominated the Hollywood export arena at the weekend and surged past the $200m mark.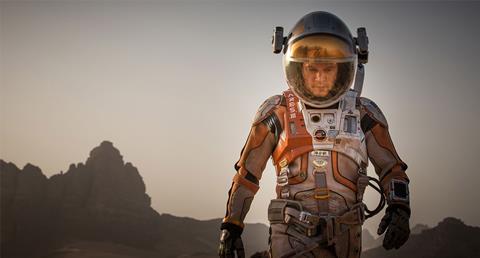 FOX INTERNATIONAL
UPDATED: A further confirmed $29.9m for The Martian resulted in a $218.5m international running total after four weekends. The worldwide total has surged to $384.8m.
The Matt Damon starrer opened top in France on $6.9m and added $4.3m in South Korea for $27.6m after three where it ranks as Fox's fourth biggest release of all time.
The UK delivered a further $2.6m for $31.1m after four sessions. The Martian is scheduled to land in China on November 25 and Japan on February 5, 2016.
Bollywood title Shaandaar arrived at number one on 2,500 Indian screens with $6.8m and took $7.8m from seven markets overall. Pathu Enrathukulla arrived in India on $3.6m from 608.
Maze Runner: The Scorch Trials added $6.8m from 56 markets to climb to $190m and opened in Japan on $1.2m.
DreamWorks' Cold War thriller Bridge Of Spies in its early stages took $4.9m from 24 territories for $6.9m. It opened in Australia on $1.3m, Mexico on $635,000, Brazil on $465,000, Hong Kong on $440,000 and Venezuela on $401,000.
Suffragette added $2m for $8.8m in its second weekend in the UK.
Pablo Trapero's Argentinian foreign-language Oscar submission El Clan has reached $17m in its homeland and $17.9m overall.
SONY PICTURES RELEASING INTERNATIONAL
UPDATED: Goosebumps grossed $6.1m from 24 markets to reach an early $9.4m and amassed $3.8m across Latin America, opening top in Mexico on $2.6m.
Hotel Transylvania 2 brought in a further $29.9m from 79 to stand at $168.8m after five sessions. The animation delivered $6m in Russia to rank number one and secured top spot in Spain on $3.2m.
A further $3.5m in the UK ensured a number one hold in the second weekend to boost the tally to $14.5m and surpass the original by 21%.
Germany generated $2m for $6.9m after two while Italy delivered $1.4m to see the film retain top spot for the third weekend and climb to $9.3m, surpassing the original by more than 20%.
The Walk added $4.3m from 73 for $23.7m and debuted in Italy on $652,000 and Germany on $472,000.
WALT DISNEY STUDIOS MOTION PICTURES INTERNATIONAL
UPDATED: Marvel Studios' Ant-Man added $22m from two territories in its 15th weekend to reach $314.8m. It added $22m after a 48% drop in its second session in China to reach $81.7m and become the second biggest original Marvel IP release in the territory.
Elsewhere it has amassed $25.4m in the UK, $19.8m in South Korea, $15.1m in Mexico and $13.3m in France.
Pixar's Inside Out added $4.4m from 18 to reach $486.1m. The family release has grossed $28.3m in Italy and stands as the biggest Pixar release of all time and the top release of the year-to-date.
It is the third biggest Pixar release of all time in Germany on $23.5. The UK has generated $59.9m and South Korea $32.9m.
LIONSGATE INTERNATIONAL
UPDATED: The Last Witch Hunter debuted in 53 markets and delivered $13.4m, ranking number one in 23 markets across the Middle East, Malaysia, Singapore, Central America, and Eastern Europe. The UK produced $1.9m and Germany $1.3m. Sicario added $2.5m from 43 for $27.3m.
WARNER BROS PICTURES INTERNATIONAL
UPDATED: The Intern grossed $8.4m from 65 territories as the tally reached $91.7m. The comedy has climbed to $21.4m after five sessions in South Korea and added $1m for $7.7m in Japan after two and $659,000 for $1.9m in Italy after two.
Pan added $12.1m from 61 for $63.8m as the UK delivered $1.9m for $7m after two weekends. The Chinese and French debuts generated $3.4m and $2.2m, respectively.
Black Mass grossed $2.9m from 34 for $14.5m and weathered national elections in Argentina to debut on $287,000.
UNIVERSAL PICTURES INTERNATIONAL
UPDATED: Legendary's Crimson Peak added $7.5m from 62 for $26.1m with Italy the top opener on $840,000 and Russia the top holdover on $1m for $4.4m. The UK and Argentina have produced $3m and $737,000 after 10 days, respectively.
Universal, Working Title, Cross Creek Pictures and Walden Media's Everest discovered a further $2.1m in 56 to scale $132m. The adventure arrives in China on November 3 and Japan three days later.
Brazilian rom-com sequel S.O.S.: Women At Sea 2, opened locally in second place on $1.1m, while Spanish comedy Mi Gran Noche opened at number three on $998,000.
The Visit has reached $25.4m, Universal and Illumination Entertainment's Minions $819.5m, Straight Outta Compton $38.5m and Jurassic World $1.014bn.
PARAMOUNT PICTURES INTERNATIONAL
UPDATED: Paranormal Activity: The Ghost Dimension opened day-and-date with North America in 33 markets on $17.9m, breaking franchise records in 12 markets according to the studio.
Mexico led the way on $2.3m for a franchise record and third biggest debut for a horror film, no mean feat in a market that famously rewards the genre.
The UK and France also generated $2.3m, while Germany delivered $2m, Russia $1.8m and Brazil $1.6m for a franchise record and the second biggest horror release.
It opened in Australia at number three on $1m. A trio of table-topping openings saw Colombia deliver $546,000, Peru $472,000 and Chile $207,000.