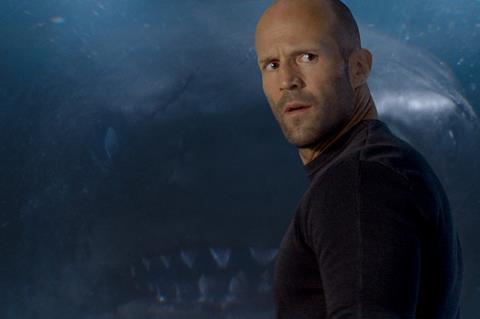 AUGUST 13 UPDATE: The Meg took no prisoners in its North American debut, beating projections that put the film opening in the $20m range to devour the competition on a confirmed $45.4m launch that tore past Mission: Impossible – Fallout in its third session.
The giant shark thriller starring Jason Statham and Li Bingbing launched in 4,118 theatres through Warner Bros, while Tom Cruise fell 45.2% and one slot to number two, adding $19.4m for $161.3m via Paramount. Despite strong reviews, the latest instalment remains the second-lowest release in the six-film spy action franchise.
Screen Gems debuted its horror film Slender Man at number four on $11.4m in 2,358 sites, while Focus Features' BlackKklansman from Spike Lee arrived in fourth place on $10.8m from 1,512 to score the director's best debut in a decad
John David Washington stars as Ron Stallworth, the African American police officer who infiltrated the KKK. Adam Driver also stars in the Cannes premiere, which Focus executives said attracted a 59% crowd aged 35 and above, with African Americans comprising the 23% bulk of film-goers, and a 52%-48% female-male split.
Ant-Man And The Wasp crossed $200m on Friday, and ranks 10th on $4m for $206.5m through Buena Vista after six weekends. In another benchmark performance, Mamma Mia! Here We Go Again crossed $100m on Saturday and fell three slots to number seven, adding $5.9m for $103.9m after four.
Disney's Christopher Robin dropped a respectable 47.3% in its second session, adding $12.9m via Buena Vista for $50.5m in a number three finish.
LD Entertainment's comedy opened Dog Days at number 12 on $3.6m from 2,442 sites. In the limited arena, there were debuts for a couple of Sundance 2018 entries. O-Scope opened the mystery thriller Madeline's Madeline at 48 on $18,009 in a single venue, while Magnolia Pictures debuted the skateboarding drama Skate Kitchen at 47 on $18,065 in a single venue.
A24 released the Joe Cole prison drama and Cannes selection A Prayer Before Dawn at 52 on $14,453 in 13.
The top 12 combined for $132.9m, marking a 5.1% gainon last weekend, and climbing 30.4% over the comparable session in 2017.
This week's wide releases are: Peter Berg's action thriller Mile 22 starring Mark Wahlberg through STX; and Studio 8's prehistoric family adventure Alpha starring Kodi Smit-McPhee and directed by Albert Hughes.
Confirmed top 10 North America Aug 10-12, 2018
Film (Dist) / Conf wkd gross / Conf total to date
1 (-) The Meg (Warner Bros) Warner Bros Pictures International $45.4m –
2 (1) Mission: Impossible – Fallout (Paramount) Paramount Pictures International $19.4m $161.3m
3 (2) Disney's Christopher Robin (Buena Vista) Walt Disney Studios Motion Pictures International $12.9m $50.5m
4 (-) Slender Man (Screen Gems) Sony Pictures Releasing International $11.4m –
5 (-) BlackKklansman (Focus Features) Universal Pictures International $10.8m –
6 (3) The Spy Who Dumped Me (Lionsgate) Lionsgate International $6.5m $24.4m
7 (4) Mamma Mia: Here We Go Again! (Universal) Universal Pictures International $5.9m $103.9m
8 (5) The Equalizer 2 (Columbia Pictures) Sony Pictures Releasing International $5.4m $89.6m
9 (6) Hotel Transylvania 3: Summer Vacation (Columbia Pictures) Sony Pictures Releasing International $5.2m $146.9m
10 (7) Ant-Man And The Wasp (Buena Vista) Walt Disney Studios Motion Pictures International $4.1m $203.6m