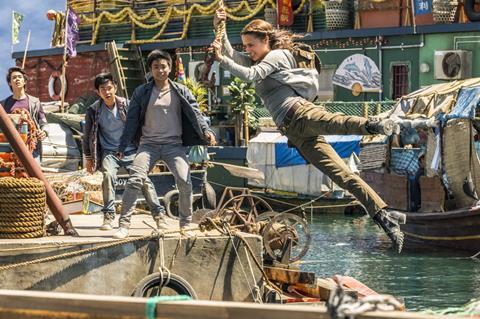 MARCH 19 UPDATE: Tomb Raider defeated Black Panther at the international box office at the weekend on a confirmed $87.2m as the Warner Bros and MGM action adventure vaulted to the top of the global and international charts. Meanwhile Oscar winner The Shape Of Water crossed $100m.

WARNER BROS PICTURES INTERNATIONAL
UPDATE: Audiences responded strongly to Tomb Raider starring Alicia Vikander in the role of thrill-seeking heiress Lara Croft as the action adventure climbed to an early $105.2m internationally from the first two weekends. This was powered by $41.3m from its first three days in China, where the film delivered Warner Bros' seventh highest opening weekend.
The worldwide tally including the number two North American debut stands at $128.9m. Ranking number one in most of its international markets, Tomb Raider opened on $4.3m in the UK, $4.2m in Russia some 11% ahead of Wonder Woman, $3.7m in France, $2.3m in Germany, $2.2m in both Mexico and Australia, $2.05m in Brazil, $2m in Italy, and $1.7m in both the UAE (where the film opened some 27% ahead of Wonder Woman), and $1.6m in Scandinavia.
Spain generated $1.4m, Indonesia climbed to $4.1m after a $1.1m haul in the second weekend, and Holland delivered a $1.1m debut on a par with Wonder Woman. Warner Bros and MGM co-produced Tomb Raider and handle international distribution jointly.
Crime caper Game Night added $3.9m from 51 markets for $30.8m and stands at $5.1m after three weekends in the UK, $4.8m after four in Australia., and $2.6m after three in Germany.
WALT DISNEY STUDIOS MOTION PICTURES INTERNATIONAL
MARCH 20 UPDATE: Black Panther climbed to $583.8m internationally and $1.191bn worldwide by Tuesday. Over the weekend it added $58m worldwide to propel the running total to $1.183bn and finished the session as the 14th highest global release in history.
The Marvel Studios release overtook Captain America: Civil War on $1.153bn and Minions on $1.159bn in the global pantheon, while the international box office climbed by $31.3m for $580.1m and ceded the crown to Tomb Raider.
Black Panther ranks as the fifth highest Marvel Cinematic Universe (MCU) release after it passed Spider-Man 3 on $554m, and is approaching $100m in China as the tally reached $96m after 10 days.
The UK has produced $59.7m, South Korea $42.7m, Brazil $32.7m, France $28.4m, Australia $28.1m, Mexico $26.1m, Germany $19.2m, and Russia $18.1m.
Taiwan has delivered $12.6m, Indonesia $12.4m, Japan $11.4m, India $10.1m, and Malaysia $10m. Black Panther ranks as the highest release of all time in South Africa on approximately $6.7m, and is the fourth highest MCU release in Europe where it has crossed $200m.
Ava DuVernay's fantasy adaptation A Wrinkle In Time added $3.6m for an early $11m from 11 material territories and stands at $5.4m in Russia, $1.8m in Spain, and $1.2m in France. The worldwide haul has reached a promising $71.7m after two weekends.
Pixar's Coco launched in its final market of Japan on $4.6m (rising to $5.8m including previews) and overall added $6.5m for $548.5m and $757.6m worldwide.
It overtook Finding Dory on $542m and The Lion King on $546m to rank as the fourth highest new IP animated release behind Frozen, Zootopia, and Finding Nemo. China and Mexico will finish as the top two markets and stand at $183.5m and $57.9m.
FOX INTERNATIONAL
UPDATE: The Shape Of Water crossed $100m as an estimated $17.4m from 63 territories propelled the running total to $110.5m. A $10.5m China debut account for the lion's share of weekend business. Red Sparrow added $8.3m from 72 for $66.9m, while The Greatest Showman grossed $3.8m from 25 for $229.4m.
Three Billboards Outside Ebbing, Missouri added $3.4m from 51 for $95.8m an debuted in South Korea on $322,000. Maze Runner: The Death Cure stands at $226.5m.
SONY PICTURES RELEASING INTERNATIONAL
UPDATE: Peter Rabbit debuted at number one in the UK on a superb $10.1m, and arrived in Mexico in second place on $1.4m. Overall the family adaptation added $16.1m from 22 markets for an early $43.6m and $146m worldwide. It opens this week in Australia, Brazil, Germany, Italy, Russia, and Spain.
CHINA UPDATE
Operation Red Sea added $11.7m for $554.1m and Detective Chinatown 2 grossed $3.9m for $539.7m.
UNIVERSAL PICTURES INTERNATIONAL
UPDATE: Mary Magdalene starring Rooney Mara ventured into its first markets and generated $2.3m, debuting in Italy on $742,000, Brazil on $393,000, Spain on $366,000, and the UK on $332,000.
Fifty Shades Freed added $2.3m for $265.5m, while I Lose Weight added $2.1m for $8.9m after two sessions in Russia, and Lady Bird used a $1.8m weekend to climb to $19.3m. The Post stands at an estimated $30.6m via Universal territories.
PARAMOUNT PICTURES INTERNATIONAL
The animation Sherlock Gnomes opened in its first five international markets this weekend on $2.1m led by $1.4m in Russia.
STX INTERNATIONAL
Gerard Butler action thriller Den Of Thieves added $1.3m for #28.6m. Gringo added $535,000 for $1.6m.