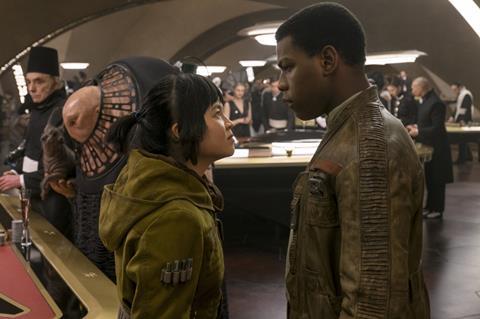 Dollar amounts are based on today's conversions.
Disney
Star Wars: The Last Jedi continued its dominance over the UK box office, adding a further $10.81m (£7.975m) over the weekend (29-31 Dec), plus $1.8m (£1.33m) from the Bank Holiday Monday.
Rian Johnson's sequel dropped a decent 22% from the previous weekend, and is up to $95.4 (£69.6m) in the UK so far.
The film is neck-and-neck with Beauty And The Beast (also Disney) in the race to be the highest grossing film of 2017 in the UK. A Disney source told Screen that Beast might edge it, but this is not yet confirmed.
The previous Star Wars installment, The Force Awakens, finished its UK run with $161m (around £112m) in 2016.
Over the festive period The Last Jedi passed $1bn at the global box office, ending 2017 as the third biggest release of the year.
Expect its global total to rise noticeably when it opens in China on January 5.
Sony
Jumanji: Welcome To The Jungle posted an impressive weekend, rising 28% to add $7m (£5.2m). With a Monday figure of $1.6m (£1.2m) its running total in the UK is now $27.7m (£19m).
The action comedy starring Dwayne Johnson, Kevin Hart, Jack Black, and Karen Gillan officially opened in the UK on 20 December, but was also previewed from Dec 8-10, taking $2.8m (£2.1m) from 517 sites, before leaving cinemas for 10 days.
The film's opening weekend total on the 22 Dec, which includes the preview figure, was $11.05m (£8.15m).
20th Century Fox
Hugh Jackman musical The Greatest Showman, which opened on Boxing Day in the UK, danced its way to a third-place weekend of $3.39m (£2.5m), plus $950,000 (£700,000) on Monday for a cume of $7.32m (£5.4m).
Universal
Comedy sequel Pitch Perfect 3 continued to be on song at the box office, making a strong $3.11m (£2.31m) this weekend. Adding $568,000 (£419,000) from the Bank Holiday, its current UK total is $12.61m (£9.3m).
Studiocanal
Paddington 2 has now overtaken the original film at the UK box office, with its weekend total of $2.5m (£1.8m), plus $507,000 (£404,000) on Monday, seeing it climb to $51.57m (£37.95m) to date. The original finished at $50.03m (£36.9m) in 2014/2015.
UPCOMING RELEASES
This week sees the saturation release of Sony's All The Money In The World, which was hastily re-edited when Kevin Spacey was replaced with Christopher Plummer.
Other releases include Christian Bale western Hostiles (Entertainment), Brad's Status with Ben Stiller (Vertigo) and a limited release for Kornél Mundruczó's Cannes Competition title Jupiter's Moon (Curzon Artificial Eye).