Universal Pictures International (UPI) brass on Monday declared another milestone in a year that has seen the studio shatter records left and right, earning $3.78bn in international receipts.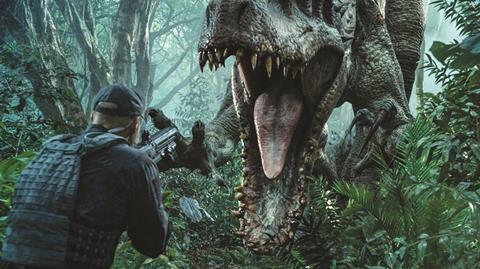 The new mark from Universal Pictures International overtook Fox International's $3.73bn in 2014 with more than four months of the year remaining and nine films still to come.
The record haul includes fastest studio to reach $2bn and $3bn at the international box office, while Jurassic World scored the biggest international, global and North American opening weekend of all time and reached $1bn worldwide in an unprecedented 13 days.
So far in 2015 the studio has had four of the top five films of the year: Fast & Furious 7 at number one on $1.162bn, Jurassic World at number two on $983.5m, Universal and Illumination's Minions at number four on $670.2m and Fifty Shades Of Grey at number five on $404.1m.
Universal has had four number one worldwide debuts and has held top berth at the international box office for 10 weeks – more than any other studio so far.
Meanwhile, Fast & Furious 7 remains the biggest release ever in China on $391.2m and looks to have resisted the challenge of Monster Hunt, which is slowing down on its home turf.
Fast & Furious 7 became the third film to cross $1bn at the international box office and ranks as the fifth biggest worldwide release.
Minions currently ranks as the biggest animated film of the year-to-date and is the biggest animated film in Latin America, the fourth biggest animation internationally and third biggest worldwide.
"2015 continues to be an outstanding year for Universal, and we are very proud of the overwhelming success we have had at the international box office," said UPI president of distribution Duncan Clark.
"There are countless people who contribute to this level of success. First and foremost our studio executive ranks, led by Jeff Shell and Donna Langley, then of course our filmmakers and talent.
"This record-breaking milestone is also a testament to the tireless work of those invaluable team members at our head offices in Los Angeles and London as well as those in our operating companies, joint ventures and local distributors around the world."