Steven Spielberg's adaptation impresses, while The Darkest Hour fails to shine.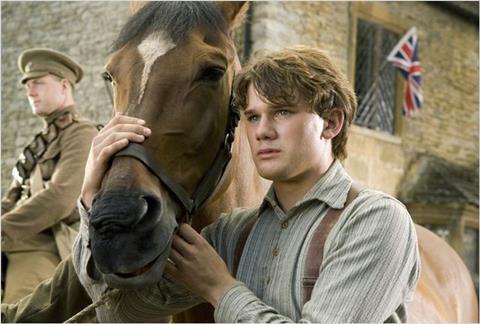 Walt Disney's War Horse reigned supreme at the top of the UK box office after debuting with an impressive $6.0m (£3.9m) from 491 locations.
Steven Spielberg's adaptation of Michael Morpurgo's children's novel also achieved the week's highest location average of $12,307 (£8,034) in the process, and the opening compares favourably to the director's most recent film, The Adventures Of Tintin: The Secret Of The Unicorn. Tintin recorded a $10.8m (£6.8m) debut back in October, including previews, with a Fri-Sun gross of $5.4m (£3.5m).
After running them close last week, Pathe's The Iron Lady managed to overcome Mission: Impossible and Sherlock Holmes in its second week as it climbed to second. Dropping just 31%, Phyllida Lloyd's Margaret Thatcher biopic commanded a further $2.3m (£1.5m) and stands at $7.9m (£5.2m) after adding a healthy $2.4m (£1.5m) through Mon-Thurs.
Despite falling down the chart, both Warner Bros.' Sherlock Holmes: A Game Of Shadows and Paramount's Mission: Impossible - Ghost Protocol still managed decent holdovers after falls of just 35% and 38% in their fifth and third weeks respectively.
Sony's The Girl With The Dragon Tattoo rounded off a strong top five, where all films notched up $1.6m (£1m) plus tallies. David Fincher's English-language adaptation of Stieg Larsson's bestseller is on the verge of becoming only the 22nd 18-rated film to break the £10m barrier at the UK box office after grossing a further $1.6m (£1.0m) for $15.1m (£9.9m). It is just $194,643 (£127,157) off and is likely to achieve it in the next day or so, a feat which the likes of Wanted, American Gangster and Kill Bill Vol. 2 failed to acheive.
Fox's 3D alien invasion thriller The Darkest Hour landed at sixth after a soft opening of $1.1m (£740,773) from 385 locations, with 91.1% of its gross coming from 3D screens. In comparison, the similarly-themed Skyline achieved $1.9m (£1.2m) from slightly fewer locations (381) and without the added 3D premium, back in November 2010.
The week's best holdover performance belonged to Golden Globe winner The Artist which climbed one place to seventh after boosting its week-on-week gross by 9%, and has now charmed its way to a highly respectable $2.9m (£1.9m).
Momentum's Shame can be very proud of its $819,988 (£535,288) opening bow at the UK box office as it placed tenth. Steve McQueen and Michael Fassbender's previous collaboration Hunger managed $1.2m (£806,517) cumulative but strong word-of-mouth should result in a sturdy holdover next week and see Shame past that.
This week sees saturation releases for Lionsgate's Coriolanus, Paramount's Haywire, Warner Bros.' J.Edgar, Fox's The Sitter and Entertainment's Underworld: Awakening. StudioCanal's W.E. receives a wide release.