Warner Bros.' Due Date debuted top on the international scene, easily seeing off nearest rival Despicable Me.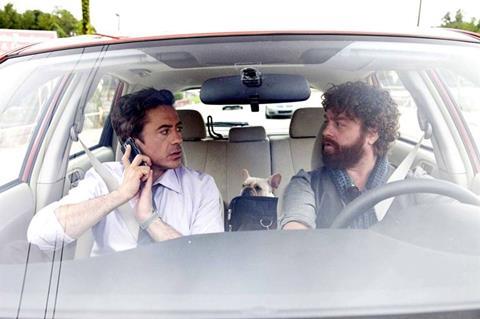 Todd Phillips' comedy grossed $21.1m from 3,572 screens at an average of $5,918. Currently playing in 32 territories, Due Date hits France, Switzerland and Hong Kong this weekend.
Despite opening on $12m less than Phillips' previous smash The Hangover in US, Due Date has doubled that film's opening international haul, albeit playing in three times the number of territories. The Hangover went on to gross $190m internationally and remained in the top 20 chart for 18 weeks.
Universal's blockbuster Despicable Me dropped to second place in its 18th week, taking $13m from 4,110 screens. The animated-comedy has now crossed the quarter billion dollar mark, accumulating $259m during its international run.
Paramount's Jackass 3D was the week's biggest improver, posting a 173% increase in week-on-week profit, climbing from 15th to third in the process. The documentary-comedy took $12.6m for $19m in its second week after opening in France, Spain, UK and Australia.
Eros' Golmaal 3 entered the chart in fourth position, making $12m on 1,344 screens in 17 territories. The Rohit Shetty comedy stars Kareena Kapoor and Ajay Devgan.
In its second week Paramount's Megamind improved on its first week performance by 41%, taking $10.8m in only seven territories for the week's second-best screen average of $9,821. Tom McGrath's animated-comedy takes a break from its autumn rollout in November while Harry Potter flattens all opposing family fare but reawakens in Germany, UK, Spain and Brazil on the first weekend in December.
Arsenal's Five Minarets In New York entered the chart in 11th position taking $5.7m in three territories. Mahsun Kirmizigul's third feature as director stars Danny Glover, Robert Patrick and Gina Gershon in a story of two Turkish anti-terrorist agents who are sent to New York on a mission to locate a dangerous terrorist.
Viva's comedy-romance Action Replayy debuted in 12th, taking $5.7m, while the week's only other top 20 new entry was Europa's drama The Big Picture, which entered in 18th after taking $3.5m in France and Belgium.