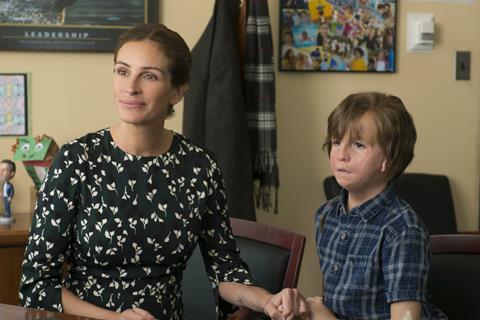 NOVEMBER 20 UPDATE: DC Entertainment's North American woes continued as Justice League scored the lowest debut of any film in the DC Extended Universe to erase the summer momentum established by Wonder Woman as it opened top in North America on a confirmed $94m.
That left Wonder to steal the show. The drama about a boy with facial disfigurement stars Julia Roberts and Jacob Tremblay and arrived in second place on an impressive $27.5m from 3,096 theatres. Participant Media financed and produced the film.
The specialty arena caused a stir for a couple of awards season frontrunners. Fox Searchlight's revenge drama Three Billboards Outside Ebbing, Missouri starring Frances McDormand, Woody Harrelson and Sam Rockwell vaulted 18 slots to number nine following an expansion in the second weekend. A24's Lady Bird starring Sairse Ronan climbed two places to eight in its third session.
At a price tag believed to be $300m excluding marketing, the Justice League North American debut fell below what studio executives were looking for, although a $185m international weekend boosts the worldwide running total to a decent $279m.
Despite the summer heroics of Wonder Woman, DC Entertainment and Warner Bros are yet to crack the domestic box office and the brand's all-star superhero team-up opened way behind the Avengers series from arch-rival Marvel Studios. The Avengers, opened on $207.4m in May 2012, while Avengers: Age Of Ultron delivered a $191.3m debut in May 2015.
Gal Gadot stars as Wonder Woman alongside Ben Affleck as Batman, Henry Cavill as Superman, Jason Momoa as Aquaman, Ezra Miller as the Flash, and Ray Fisher as Cyborg. The tentpole will need to deliver a strong second North American session over Thanksgiving and hold steadily heading into the December 15 of Star Wars: The Last Jedi.
Sony delivered two notable debuts as faith-based animation The Star debuted in sixth place on $9.8m in 2,837 sites, while Denzel Washington drama and awards hopeful Roman J. Israel Esq. opened at number 34 in four sites on a solid $61,999.
Animation The Breadwinner, which features Angelina Jolie as an executive producer, arrived at number 48 via GKIDS on $17,395 from three venues. Hungary's foreign-language Oscar submission 1945 earned an estimated $15,952 via Menemsha Films in three theatres to reach $80,957 after three weekends.
Box office for the top 12 generated $194m, up 38.7% on last weekend and up 23.1% on the comparable session in 2016.
This week's wide release is Pixar's Coco via Buena Vista. The animation became the highest-grossing film of all time at the Mexican box office last week.
Confirmed top 10 North America November 17-19, 2017
Film (Dist) / Conf wkd gross / Conf total to date
1 (-) Justice League (Warner Bros) Warner Bros Pictures International $94m –
2 (-) Wonder (Lionsgate) Lionsgate International $27.5m –
3 (1) Thor: Rangarok (Buena Vista) Walt Disney Studios Motion Pictures International $21.7m $247.3m
4 (2) Daddy's Home 2 (Paramount) Paramount Pictures International $13.8m $51.7m
5 (3) Murder On The Orient Express (Fox) Fox International $13.8m $51.7m
6 (-) The Star (Sony) Sony Pictures Releasing International $9.8m –
7 (4) A Bad Moms Christmas (STX) STXinternational $7m $51m
8 (10) Lady Bird (A24) Focus Features $2.5m $4.7m
9 (27) Three Billboards Outside Ebbing, Missouri (Fox Searchlight) Fox International $1.1m $1.5m
10 (5) Jigsaw (Lionsgate) Lionsgate International $1.08m $36.5m