MARCH 21 UPDATE: Disney's latest animation smash crossed $200m in North America thanks to a confirmed $37.2m number one hold.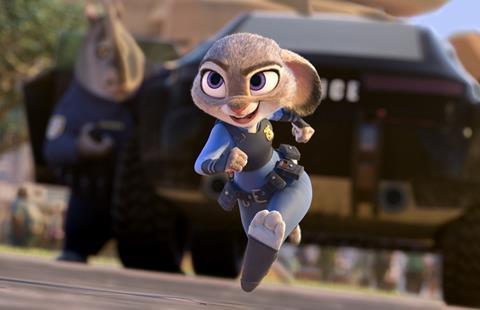 Zootopia soared to $200.9m in its third weekend and would have stolen all the limelight yet again were it not for the stellar performance of TriStar's faith-based Miracles From Heaven.
With one week to go before Easter the Jennifer Garner starrer arrived at number three on $18.4m in what was the fourth biggest five-day and three-day ($14.8m) debut for a film of the genre. Queen Latifah and Martin Henderson also star.
Sony Pictures executives said the studio is behind seven of the top nine faith openings in the last five years and the top five faith openings since April 2014. Overall, Sony has distributed six of the top eight faith-based titles in the last five years.
The studio said the $13m production drew an audience that was 65% female and 75% aged 25 and above.
Lionsgate-Summit's YA episode The Divergent Series: Allegiant debuted at number two on a lacklustre $29m, of which $2.3m came from 370 Imax screens.
The debut does not compare favourably to those of the first two films. Divergent generated $54.6m two years ago and followed up with Insurgent last year on $52.3m.
Bollywood title Kapoor & Sons – Since 1921 opened at number 16 on $986,000 in 143 theatres via FIP, while SPC opened Sundance 2015 hit The Bronze at number 22 on $386,328.
Warner Bros opened Jeff Nichols' recent SXSW entry and Berlinale world premiere Midnight Special on $190,012 in five sites for a $38,002 average. Fox opened Pablo Trapero's Argentine box office smash The Clan on $12,519 from three venues.
Overall the top 12 generated $118m, dropping 3.2% against last weekend and down 2.5% against the comparable session in 2015.
All will kneel before Warner Bros this week when the studio unleashes Batman vs Superman: Dawn Of Justice starring Ben Affleck, Henry Cavill, Gal Gadot, and Jesse Eisenberg; while Universal releases the counter-programmer My Big Fat Greek Wedding 2 with Nia Vardalos.
Confirmed top 10 North America January February March 18-20, 2016
Film (Dist) / Conf wkd gross / Conf total to date
1 (1) Zootopia (Buena Vista) Walt Disney Studios Motion Pictures International $37.2m $200.9m
2 (-) The Divergent Series: Allegiant (Lionsgate-Summit) Lionsgate International $29m –
3 (-) Miracles From Heaven (TriStar) Sony Pictures Releasing International $14.8m $18.4m
4 (2) 10 Cloverfield Lane (Paramount) Paramount Pictures International $12.5m $45.2m
5 (3) Deadpool (Fox) Fox International $8m $340.9m
6 (4) London Has Fallen (Focus Features) Nu Image $6.8m $50m
7 (5) Whiskey Tango Foxtrot (Paramount) Paramount Pictures International $2.8m $19.3m
8 (6) The Perfect Match (Lionsgate) $1.9m $7.4m
9 (8) The Brothers Grimsby (Sony) Sony Pictures Releasing International $1.4m $5.9m
10 (11) The Revenant (Fox) Fox International $1.2m $181.1m