Dir Larry Charles. US. 2009. 88 mins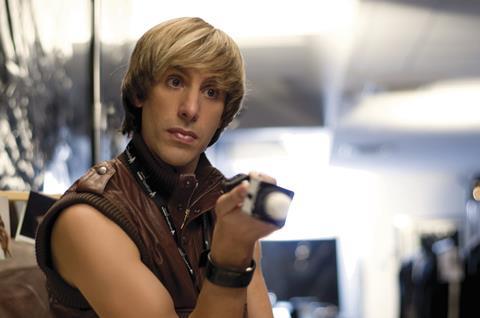 Given that his guerilla style now has less novelty value, the laughs were always going to be harder for Sacha Baron Cohen to achieve in the follow-up to his startlingly funny 2006 hit Borat. So it's not surprising that Baron Cohen uses his gay fashionista title character to generate raunchier - though sometimes equally pointed - laughs in Bruno.
While the film isn't as consistently funny as Borat, Bruno should still pull in a sizeable audience. The raunchiness, however, could be a limiting factor at the box office, either offending or scaring off more mainstream demographics (in the UK, for example, it has an 18 rating).
The comedy becomes more cutting and effective when Bruno, inspired by the likes of Tom Cruise and John Travolta, realises that being straight is the key to success
The US, where Bruno opens wide on July 10 through global distributor Universal, represents the film's biggest challenge. Not only does the launch put the film in one of the more congested periods of the summer season (Borat started its $128m run in early November), but American audiences are the most likely to recoil from the edgier content.

The international marketplace - the film opens day and date with the US in a couple of territories and later this year in others - could be more accepting, suggesting a take close to Borat's $133m, but perhaps sliced down due to the restrictive rating.

With Larry Charles (Religulous) again directing and Cohen working with regular collaborators Anthony Hines and Dan Mazer and Seinfeld writer Jeff Schaffer on the script, the film introduces Bruno as the self-absorbed host of an Austrian fashion show. After losing his job and his fashion scene status, "the biggest Austrian superstar since Hitler" goes to the US seeking fame and fortune, accompanied by his plain but doting assistant Lutz (Gustaf Hammarsten).

Unable to land a big movie role and failing as a TV series extra, Bruno tries to launch a celebrity chat show. When a focus group screening kills that idea, he starts taking ever more desperate measures in his quest to become a star.

Even before the comedy gets going it's clear that Bruno doesn't have the occasionally endearing qualities that made Borat more than just a figure of fun. What he does have is a hilariously camp wardrobe (costume designer Jason Alper is a veteran of Borat and Cohen's UK TV shows) and an impressive collection of sex toys.

Swedish actor Hammarsten is nicely deadpan as Bruno's long suffering aide and the film gets some easy laughs at Hollywood's expense in early scenes involving Cohen and seemingly unsuspecting real life showbiz operatives (a crusty agent, a duo of dim witted charity consultants and a parade of baby-actor parents). Celebrities roped into the action include Paula Abdul, Latoya Jackson and Republican politician Ron Paul (the A-listers are saved for a mock music video screened with the closing credits).

A side trip to the Middle East - Bruno thinks bringing peace to the region might do for him what the Amazon did for Sting - produces what look like some quite dicey moments for Cohen and Bruno's adoption of a black baby leads to one of the scenes that has already had considerable Internet exposure.

Set pieces apparently intended to play the same role as Borat's nude wrestling sequence include a gay sex montage that plays like Benny Hill on poppers and Bruno's oral sex workout with the ghost of one of the Milli Vanilli guys.

The comedy becomes more cutting and effective when Bruno, inspired by the likes of Tom Cruise and John Travolta, realises that being straight is the key to success. The revelation leads to scenes involving recruits at a National Guard training centre, a couple of real-life 'gay converters' and participants in an anti-gay demonstration (though the film has already earned some criticism from the gay community, these scenes leave little doubt that Cohen is more interested in exposing homophobia than milking it).

While earlier scenes in the film appear more staged than most of the material in Borat – probably because unwitting participants are harder to come by now that Cohen is fairly widely known – these latter sequences have the spontaneous feel that gave the first film its edge. Many of the earlier scenes seem to end abruptly (presumably because the star was recognised during shooting), but the climactic cage fight sequence has Cohen and Hammarsten apparently risking life and limb in front of a scary looking crowd.
Production companies
Everyman Pictures
Four by Two
Media Rights Capital

Worldwide distribution
Universal Pictures

Producers
Sacha Baron Cohen
Monica Levinson
Dan Mazer
Jay Roach

Screenplay
Sacha Baron Cohen
Anthony Hines
Dan Mazer
Jeff Schaffer

Cinematography
Anthony Hardwick
Wolfgang Held

Production design
Dan Butts
Denise Hudson
David Maturana

Editors
Scott M Davids
James Thomas

Music
Erran Baron Cohen

Main cast
Sacha Baron Cohen
Gustaf Hammarsten