Dir: Hesham Issawi. Egypt-UAE. 2010. 100 mins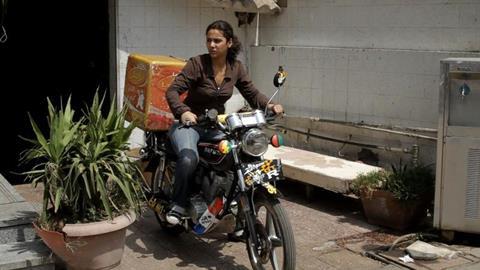 An impressively dramatic look at contemporary life in Cairo, Hesham Issawi's Cairo Exit (El Khoroug) is a gritty and dynamic film driven by a startlingly fine performance by lead actress Maryhan as a young woman torn between following her lover who wants to leave Egypt or staying loyal to her family and background but enduring a bleak future.
Maryhan is a vibrant and charming revelation, imbuing her role with a sense of passionate spontaneity.
The subtext of a younger generation questioning whether they should stay in their home countries is a theme running through many new films from the Arab region, and Issawi's film is one of the best examples as it tackles cultural taboos as well as old-fashioned drama, and certainly deserves to find a home at discerning film festivals.The film had its world premiere at the Dubai Internatioinal Film Festival.
That old-chestnut of 'star-crossed' lovers is dusted off for Cairo Exit, with the core of the story the troubled romance between 18 year-old Coptic girl Amal Iskander (Maryhan) and her Muslim boyfriend Tarek (Mohammed Ramadan). She pretends to be pregnant, but he gives her an ultimatum – leave the country on an illegal boat-crossing to Italy or have an abortion.
She works in a fast food café and gets a glimpse of a wealthier lifestyle when she glimpses into homes where she delivers food, but when the delivery motorcycle is stolen she is sacked and starts to work in a local hairdressers in a low-paid job. She also finds herself drawn into a seedier world of crime and vice, and is faced with a stark decision when Tarek announces he is leaving Cairo on the same day that her older sister is to be married.
Maryhan is a vibrant and charming revelation, imbuing her role with a sense of passionate spontaneity, and while Mohammed Ramadan is also impressive – scenes of them dancing together on a Cairo rooftop are nicely staged – he cannot match her innate charm and dynamism.
It may be true that the story is a little clichéd (and fuzzy-screened flashback scenes feel rather old-fashioned), but it is round the edges that the film shines as it delves into modern-day Cairo and touches on violence, sex, religion and poverty.
Production company: Film House Egypt
Sales contact: sherif@filmhouseegypt.com
Producer: Sherif Mandour
Screenplay: Hesham Issawi, Amal Afifi
Cinematography: Patrick Thelander
Editor: Nehed Samy
Music: Tamar Karawan
Main cast: Maryhan, Mohammed Ramadan, Ahmed Bedear, Safaa Golal, Nadia Fahmy, Sanaa Muzian