EXCLUSIVE: In a package from Gersh and ICM Partners that has come together in time for Cannes, the Oscar-winner stars with Sebastian Stan from current blockbuster Captain America: Civil War and Maika Monroe in Rubber Tree Production's left-field love story.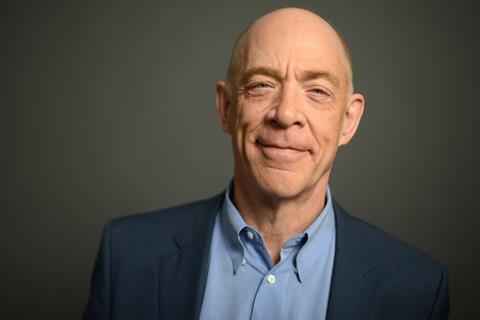 I'm Not Here wrapped production in Los Angeles in late April and centres on a man – played by Simmons and Stan – striving for redemption when he meets a flawed yet fearless woman.
Mandy Moore, Max Greenfield, David Koechner, Harold Perrineau, and newcomers Iain Armitage and Jeremy Maguire round out the key cast.
Michelle Schumacher directs from a screenplay she co-wrote with Tony Cummings and produces alongside Randle Schumacher and Eric Radzan for Rubber Tree Productions.
Gersh and ICM Partners represent worldwide sales and will introduce I'm Not Here to buyers at the market in Cannes next week.
Simmons currently stars in The Meddler with Susan Sarandon, while Monroe will be seen in summer release Independence Day: Resurgence.
The Gersh Agency represents Simmons, while ICM Partners, Brookside Artists Management and Sloane, Offer, Weber & Dern LLC handle Stan.
William Morris Endeavor, Luber Roklin and Felker Toczek Suddleson Abramson LLP represent Monroe.