EXCLUSIVE: Organisers behind the Cannes Marché's third NEXT event set to run from May 12-18 have lined up an expanded future of cinema showcase that places heavy emphasis on the fast-rising world of virtual reality.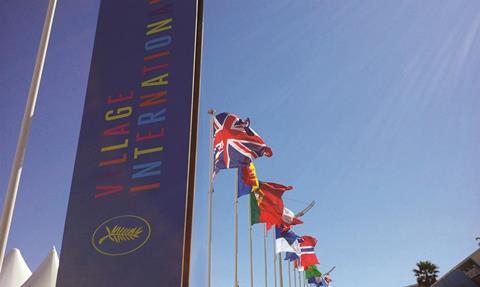 For the first time NEXT events will take place at the entrance of the Village International on the Pantiero side – the site previously occupied by Canal+ – and will feature installations, interactive films, screenings, conferences and workshops on subjects such as big data, theatres of the future, and VOD opportunities.
The NEXT schedule will include 15 innovative companies that will conduct business at the NEXT Pavilion. Creative Wallonia and the Canadian Film Center will have their own corner. The full NEXT programme will be announced shortly.
VR Days programme
The centerpiece is the VR Days programme, a rich roster featuring work from the world's leading exponents that takes place over May 15 and 16 and stems from a clamour by content creators to focus on arguably the most seductive growth area in entertainment. (Screen International is the media partner for VR Days.)
Industry attendees who obtain tickets the day before will be able to sample from the comfort of rotating chairs a multitude of 30-minute screening programmes (see below) comprising more than 35 VR projects.
Each slot will screen twice and is curated by international partners from a handful of countries with active VR industries. After the viewing session, attendees will move to the adjoining conference room to discuss the nuts and bolts of production and distribution with the creative brains behind the works.
VR screenings will include work from acclaimed Montreal-based creators Felix and Paul, as well as Denmark's Makropol, Madagascar director Eric Darnell, and ARTE France.
PickupVRCinema will run the VR screenings because, according to the Marché, "it is the first space entirely dedicated to VR in France where audiences can discover VR content (movies and experiences alike) in the best conditions."
"We see a boom of requests and opportunities this year for NEXT," said Marché executive director Jérôme Paillard. "The fast evolution of the market is a catalyst for innovations from every domain, from financing to marketing.

"NEXT will be almost a village by itself where producers and professionals from around the world will be able to nurture. They will be able to discover a large spectrum of topics about the challenges and changes that the cinema industry today is facing.

"And with a spectacular VR installation they will be able not only to have a first experience in 360 degrees filming but also discover great films." 

Oculus Story Studio among presenting attendees
In addition, NEXT will present two VR projects in the making: Fan Club by Vincent Ravalec (a-Bahn) and NEXT by Olivier Pesch (Samsa Films). Oculus Story Studio will discuss its early forays into VR and storytelling in the medium.
VR installations include the Matrix-like Real Virtuality by Artanim, a multi-user immersive platform combining a 3D environment with a real stage set, and Giant by Milica Zec and Winslow Turner Porter III, a five-minute exploration of war presented by HP.
"NEXT pavilion and its programming are exploding in sync with the arrival of VR and interactive films on the market," said the Marché's head of industry programmes Julie Bergeron.
"It was important for us to find a way of showing these films as a collective experience and offer a space where they can be presented in a market environment, not only as an individual experience. With the VR screening room, we are pioneering the possibility to book a market screening and offer a collective viewing of VR to the Marché participants."
Bergeron said the schedule would break new ground. "For the industry, one of the big discussions we will have is how monetisation will evolve. There's more and more content but it's not the same model as film and it needs to be worked out… Who is going to pay for it and make money out of it?"
As to whether the NEXT pavilion would become a bustling hub of deal-making, the head of industry programmes said: "That's the question… It's for the industry and the idea for them is to discover [VR] and see the scope of it and what can be done."
Bergeron added. "For film-makers [VR is] really powerful. In two or three minutes you understand physically and intellectually and emotionally everything about the subject… Film-makers understand very fast that they can tell the story with empathy. It's a new way of storytelling."
A 'panorama' of diversity
Michel Reilhac, artistic consultant for VR Days who has curated a special programme, said: "This first-ever VR Days at NEXT in Cannes proposes a panorama of the incredible diversity of the international VR landscape. 2016 is the birth year of VR as a new media accessible for everyone.

"I am amazed to see how artists, film-makers, animators, illustrators, writers… are already grasping the platform and contributing to the creation of a new language: the immersive storytelling where the spectator experiences empathy with the story, where the story becomes a total experience. This rich diversity is making virtual reality as a new art form. The VR Days prolific programme is the witness of its birth."
Josh Sobel of US partner Furious M, which only began conversations with the Marché during the Frontières International Co-Production Market that recently concluded in Brussels, said the showcase offered the chance to influence public thinking on the medium.
"Furious M has been focused on bringing high-concept VR to the masses," said Sobel. "We want to shape the way the public views VR and we believe that exposing them to high quality content in the right way is key to the success of this new medium. We work with storytellers and film-makers to bring their VR vision to the public."
NEXT VR Days Sunday May 15 and Monday May 16
All synopses provided by Cannes Marché.
CANADIAN GENRE – VR FILM SERIES
Canadian Genre-VR Film Series presented by CFC Media Lab in association with Fantasia International Film Festival and its co-production market Frontières, and Telefilm Canada. The line-up features three world premieres from the CFC Media Lab, OccupiedVR and CreamVR Productions.
Body/Mind/Change Redux Teaser
Dirs: J.Lee Williams, Blair Renaud
Pdr: Ana Serrano

A CFC Media Lab Production in co-production with TIFF and in association with OccupiedVR

Body/Mind/Change Redux Teaser, starring David Cronenberg, immerses audiences in a "Cronenbergian" world inspired by the film Videodrome.
Length: (7:00)

Technolust: the short film
Dir: Blair Renaud
Pdr: J. Lee Williams
An OccupiedVR Production
Technolust: the short film is a taste of the award-winning Virtual Reality Adventure set in a near-future cyberpunk world, made for Oculus Rift.
Length: (7:00)
The Closet
Dir: Ian Tuason
Pdr: Ana Serrano
A CFC Media Lab Production
A young man investigates strange, supernatural forces in his new home when he discovers an even stronger, insatiable force where he least expects it.
Length: (5:00)
War Of The Dead
Dirs: Brian Rice, Tristan Cezair, Andrew MacDonald
Pdr: Kim Creelman

EPs: David Brady, Kate Harrison
Mayhem surrounds Civil War soldiers when zombies overtake the battle trenches in a Virtual Reality onslaught of blood and guts.
Length: (7:00)
MADE IN USA VR
A US VR focus presented by Furious M.
Invasion!
Dir: Eric Darnell
Pdr: Maureen Fan
Baobab Studios
Baobab Studios' Invasion! is a computer-animated VR interactive from the director of Madagascar that pits invading aliens against two meek, adorable creatures: fluffy white bunnies! And you are one of them.
Length: (6:08)

Repensando A Cuba
Dirs: Gabriel Lifton-Zoliine, Angel Manuel Soto
Pdr: Gabriel Lifton-Zoline
RYOT
RYOT went to Havana to see what everyday Cubans thought of Obama's visit, the unconventional Cuba, and what makes Cuba so unique in people's imaginations. We left enchanted by Cuba's beauty and awed by its complexity.
Length: (4:45)
The Second Line: A Parade Against Violence
Dirs: Angel Manuel Soto, Matt Ogens
Pdr: RYOT & AP
RYOT
March alongside New Orleans' famed brass bands through neighbourhoods, streets, and alleys – in a public protest against violence.
Length: (5:12)

RYOT 360 Reel
Pdr: Ryot
RYOT lets you become the story with immersive virtual reality and 360 degree video, ushering in a new era of journalism and new media.
Length: (1:12)

Butts: The VR Experience
Dir: Tyler Hurd
Pdr: Tyler Hurd
Tyler Hurd

BUTTS: The VR Experience is an animated VR short about love, trust, and learning what it means to be truly free. It'll make you laugh, cry, fill you with unimaginable bliss, and return you to that innocent place of childlike wonder you've long forgotten.
Length: (2:07)

Defrost Episode 1: The Awakening
Dir: Randal Kleiser
Pdrs: Tanna Frederick, Randal Kleiser
Feral Dog Productions, Randal Kleiser Productions, 3Ality Technica, IM360, Furious M
Defrost is a 12-part series that transforms you, the viewer, into the main character, Joan Garrison. In Episode 1 Joan awakens after 30 years in suspended animation and meets her family who have all dramatically changed.
Length: (5:37)
Defrost Episode 2: The Best Care
Dir: Randal Kleiser
Pdrs: Tanna Frederick, Randal Kleiser
Feral Dog Productions, Randal Kleiser Productions, 3Ality Technica, IM360, Furious M
In Episode 2 Joan overhears a threat to her recovery and she is unable to communicate to anyone.
Length: (5:00)
MADE IN FRANCE VR
Two VR programmes made in France presented by ARTE and Unifrance.
SENS
Dirs: Charles Ayats, Armand Lemarchand, Marc-Antoine Mathieu
Pdr: Marie Blondiaux
RED Corner, ARTE France
SENS is the first project to adapt a graphic novel into a VR experience. An anonymous wanderer roams in a stripped-down yet labyrinthine universe. All around him, arrows on ever-changing shapes. Where will it lead?
Length: (30:00)

Notes On Blindness
Dir: Arnaud Colinart, Amaury La Burthe, Peter Middleton, James Spinney
AGAT Films
After losing his sight in 1983, John Hull began to record an audio diary documenting his discovery of "a world beyond sight". Hull's original recordings form the basis of this beautiful animated, interactive documentary, which uses real time 3D, virtual reality and binaural sound to explore the world of the blind.
Length: (20:00)

Jours de tournage – Ma Loute de Bruno Dumont
Dir: Fouzi Louahem
Pdr: Editions du Bout des Doigts
Interview of director Bruno Dumont mixed with VR sequences of him directing his latest feature Ma Loute, presented in Competition – Official Selection at the 2016 Festival de Cannes.
Length: (10:00)

I, Philip
Dir: Pierre Zandrowicz
Pdr: Okio
Based on the fiction world of Philip K Dick, the author's mind has been preserved beyond death. Have his emotional memories been preserved as well?
Length: (15:00)

Jet Lag
Dir: Pierre Friquet
Pdr: Enfin Bref Productions
Separated by continents, two women express their love in the absence of each other through dance.
Length: (9:00)

Viens!
Dir: Michel Reilhac
Length: (12:00)
Made In Quebec VR
VR films from Quebec, Canada, presented by SODEC and Phi Centre, in collaboration with the Québec Film And Television Council.
Nomads: Sea Gypsies
Dirs: Félix Lajeunesse, Paul Raphaël
Pdr: Stéphane Rituit
Felix & Paul Studios
Nomads: Sea Gypsies transports the viewer north of Borneo to experience the Bajau Laut's daily lives. Nomads from the sea, with no land nor nationality, the Bajau either live on stilt houses or on houseboats and always share a communal spirit.
Length: (9:11)

Lebron James: Striving For Greatness
Dirs: Félix Lajeuness, Paul Raphaël
Pdr: Stéphane Rituit
Felix & Paul Studios / Uninterrupted OriginalsLebron James: Striving For Greatness is a cinematic virtual reality experience that transports the viewer in the heart of the NBA superstar's intensive pre-season training.
Length: (12:45)
Inside The Box Of Kurios
Dirs: Félix Lajeunesse, Paul Raphaël, Michel Laprise
Pdrs: Stéphane Rituit, André Lauzon
Felix & Paul Studios / Cirque du Soleil Média
Step on stage and literally immerse yourself Inside the Box of Kurios Cabinet Of Curiosities from Cirque du Soleil! A mysterious and fascinating realm that disorients your senses and challenges your perceptions, leaving you to wonder: "Is it real, or just a figment of my imagination?"
Length : (10:00)

"O" (teaser)
Dirs: Félix Lajeunesse, Paul Raphaël / François Blouin
Pdr: Stéphane Rituit
Felix & Paul Studios / Cirque du Soleil Média
Co-presented by SODEC and Phi Centre
Plunge into 'O' - An aquatic world of acrobatics and lyrical theatre
Length: (1:30)

MADE IN DENMARK VR
Two VR projects presented by Makropol.
Ewa (pilot)
Dir: Johan Knattrup Jensen
Pdrs: Mads Damsbo, Jakob Hegel
MAKROPOL, Meta Film
You will be born as Ewa, you will grow up as Ewa, and as Ewa you will fight to free yourself. You will struggle to accept your inner nature, confront your past and the one person that is holding you down – yourself.
Length: (8:00)

The Doghouse
Dir: Johan Knattrup Jensen
Pdr: Mads Damsbo
MAKROPOL, Dark Matters and Kanako
You are at a family dinner. Mum and dad have made roast beef. Older brother has brought his new girlfriend home for the first time and little brother is trying to avoid the inevitable disaster.
Length: (18:00)
VR DOCUMENTARIES
A selection of VR documentaries curated by IDFA Doc Lab – International Documentary Festival Amsterdam
DOC Programme 1:
Waves Of Grace
Dirs: Gabo Arora, Chris Milk
VRSE

Step into the virtual shoes of Decontee Davis, who recovered from ebola and now helps other victims of the disease in a township in Monrovia, Liberia.
Length: (10:00)

Drawing Room
Dirs: Jan Rothuizen, Sara Kolster
Step into the first "drawn reality" by Jan Rothuizen, about the "premium experience" of the tower room in an Amsterdam department store.
Length: (10:00)

Witness 360:7/7
Dir: Darren Emerson
One survivor of the London bombings of July 7, 2005, talks about that day and gives us a sense of the trauma that still haunts her.
Length: (15:00)

Doc Programme 2:
6 X 9 an immersive experience of solitary confinement
Dirs: Francesca Panetta, Lindsay PoultonThe Guardian
An immersive experience of solitary confinement by The Guardian.
Length: (10:00)

My Mother's Wing
Dirs: Gabo Arora, Ari Palitz
VRSE
In Gaza, foundations are built, destroyed, and built again. This virtual reality experience follows the struggle and strength of a mother coping with the death of her two children in the 2014 war.
Length: (8:00)

DMZ: Memories Of No Man's Land
Dir: Hayoun Kwon
Innerspace VR
A virtual reality exploration of the heavily guarded border between North and South Korea makes the paranoia of the Cold War palpable.
Length: (10:00)

LoVR
Dir: Aaron Bradbury
A virtual reality love trip through the brain activity that occurs in the staggering moment you fall in love; a poem written in data.
Length: (5:00)

NEXT VR Focus
A special NEXT programme curated by Michel Reilhac, NEXT's artistic consultant.
Simon
Dir: James Hedley
A young man with a disability claims his right to be seen and fully exist.
Length: (6:19)

Fabulous wonder.land
Dir: Toby Coffey
Fall down the rabbit hole and explore the magical, vibrant world of wonder.land in this animated musical video take on the stage show of the same name created by The Royal National Theatre in London. Watch and listen as the Cheshire cat hovers above like a magnificent holographic airship whilst serenading you to "Fabulous", a song from the show.
Length: (4:00)

Amani
Dirs: Eelko Ferwerda and Joris Weerts
Pdr: Raymond Van Der Kaaij
Revolver Amsterdam
A young child girl exploited and abused as a modern slave in a family today in Africa.
Length: (5:00)

Sonar
Dir: Philip Maas
A drone receives a faint distress call emerging from an unknown asteroid. When it journeys to locate the source of the signal, it ventures into a deep, ancient labyrinth that holds a secret even darker than space itself.
Length: (6:00)

Summertime
Dir: Nir Sa'ar
Pdrs: Tal Haring, Inbal Shirin Anlen, Adi Lavy
Steamer Lab & Green Productions
Girl meets boy. It's all fun and games till you lose a part of yourself…
Length: (10:00)

Fan Club (teaser)
Dir: Vincent Ravalec
a_Bahn
Vincent Ravalec takes you into his virtual universe. He presents his new film and the challenges he faces as a film-maker using virtual reality.
Length: (2:00)