Co-president Ethan Coen said the jury tried to "balance out" the awards while Jake Gyllenhaal addresses "controlled suicide".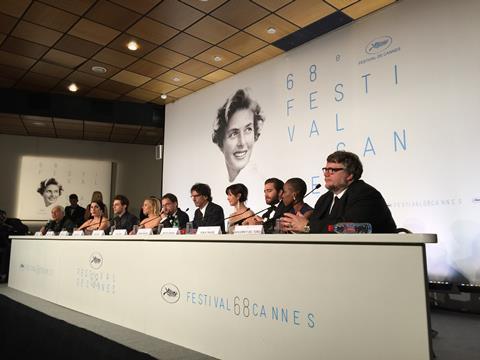 The Competition jury of the 68th Cannes Film Festival have spoken out after awarding the Palme d'Or to Jacques Audiard's Dheepan and a host of other prizes.
The jury, made up of actors, filmmakers and a musican, was led by co-presidents Joel and Ethan Cohen.
Speaking at a press conference after the ceremony, Joel said of their approach to judging the 19 Competition titles: "We are not a jury of film critics - we are artists looking at work and deciding what to celebrate in each of the works."
Ethan said: "We couldn't give a top prize to every movie - but we did try to balance out the attention on each of the films."
Joel added: "We would have given more films multiple prizes but those are the rules. It was a bit of a chess game - trying to highlight as many films as possible… We would be the first people to say there are other films we wish we had more awards to offer."
Appreciation of silence
French-Canadian director Xavier Dolan said Laszlo Nemes' Holocaust drama and Grand Prize winner Son Of Saul left a lasting impression.
"We had a long appreciation of silence after watching Son Of Saul," said Dolan. "We never forgot about that film. It's one of those films that grows on you."
Shook me deeply
Speaking about Palme d'Or winner Dheepan, British actress Sienna Miller said: "It was beautiful how little we saw yet how much we felt. It shook me very deeply."
US actor Jake Gyllenhaal added on Audiard's film: "It's essentially three strangers who become a family - over a few hours you watch three people who travel to a foreign land and learn to love each other. I have never seen it done like that - and I thought would be amazing if something like that was possible in life."
Controlled suicide
Turning to Michel Franco's Best Screenplay winner Chronic, in which Tim Roth plays a nurse working with terminally ill patients, Mexican filmmaker Guillermo del Toro said: "It was a beautiful script for me… a beautiful way of talking about death and a lack of life… To tackle a subject that is that big showed strength and intelligence."
Gyllenhaal added: "Tackling controlled suicide is something that needs to be addressed more often and more publicly."
Life-changing
Joel added that his jury duty had changed him. "Any experience like this changes your life – your perspective as a movie watcher, as someone who has to watch so many films and then going and discussing them like this profoundly changes you," he said.
French actress Sophie Marceau added: "Every day I became a bit more neutral. I stood back from my life – to be surprised – to live in this abstract world – you are more receptive as a result. One soaks up what moves one."
Spanish actress Rossy de Palma put it more directly and said: "It was like making love to cinema all day long."