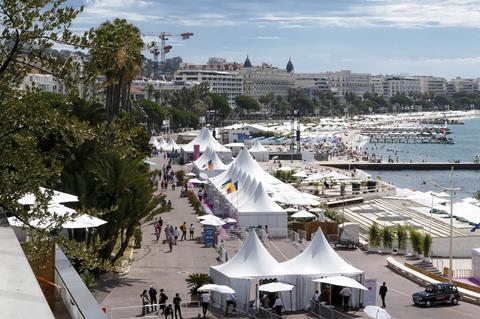 Screen International, in association with Archipel Market, is now compiling its market-leading product guide for the Cannes 2022 Marché.
PLEASE NOTE WE HAVE INTRODUCED A NEW ONLINE SUBMISSIONS FORM.
We are no longer able to accept the old submissions form — but our easy-to-use online link can be found below. You have until April 22, 2022 to send us your FREE entry — this deadline will not be extended.
To access forms please click on the links below:
Before completing the form please read the points listed below.
Highlight any product that will debut at the market or screen in full for the first time.
New films to market and first-market-screenings will be listed but completed catalogue titles should be limited to four.
List those most important to you first. If an excess is listed, we will cut from the bottom (maximum 15 titles in total).
We do not list films that are under 70 minutes in duration or films that were completed before 2019.
When listings are received, a message will appear on the submissions screen.
If you do not see a confirmation message on screen, then we do not have your listings.
We will only accept listings by the above link. We cannot accept internet links to website listings.
It is not possible to list more than three cast members per film.
If you are unable to submit your full information by the deadline, please submit whatever is available. We cannot guarantee the inclusion of an entire listing that arrives after the APRIL 22 deadline.
For any queries, please e-mail bumper@screeninternational.com
At Cannes 2022, Screen and Archipel Market are partnering to offer an innovative and more powerful Product Guide. This 2022 version will not only be printed but if you choose to opt in, your slate will also appear on the Archipel Market platform. This means twice as much visibility for Cannes participants — and access to the 1,500 worldwide members of Archipel Market.
Archipelmarket.com is the leading ongoing film market platform for promoting line-ups and organising free screenings.
Entry is free and, if you choose to opt in, your sales information will appear on Archipel Market from May 17. For more info about Archipel Market, please contact lamaral@cascade8.com.