The film's producers discuss the long-gestating project.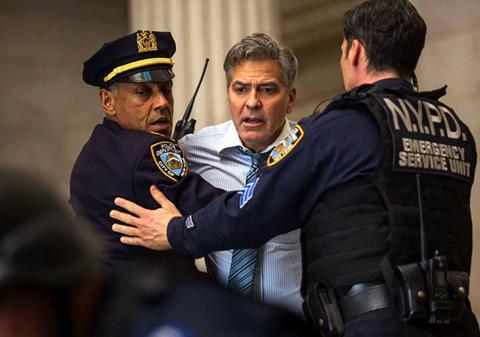 Like all labours of love, bringing out of competition selection Money Monster to the screen has been a saga.
"We got the script seven years ago last week," says Daniel Dubiecki, in town for the film's world premiere with wife and The Allegiance Theater producing partner Lara Alameddine.
"I was finishing off Up In The Air with George Clooney. The script showed up and we felt there was something to this central character and that George would be amazing," he adds.
Things slowed down when the writers went off to do TV hit Grimm and it would be another five years before they approached Clooney to play Lee Gates, the brash host of a financial TV show who is taken hostage on air by a disgruntled investor.
"We had to get the elements right first," says Alameddine. And they did, hiring Jamie Linden to work on the script by Alan DiFiore and Jim Kouf, bringing on Jodie Foster as director, and landing at TriStar after a bidding war in 2014.
With Clooney and Smokehouse Pictures partner Grant Heslov also producing and Julia Roberts on board as Gates' producer Patty, there was only one piece of the jigsaw left. Jack O'Connell, who wowed audiences in '71, Starred Up and Unbroken, auditioned as the gunman Kyle and blew everyone away.
"He read lines with Jodie," says Dubiecki, "and right away she looked at me. We knew we had our Kyle."