Dir: Joe Johnston. US. 2011. 124mins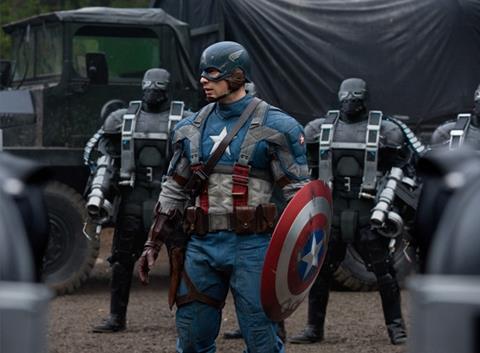 Where other superhero movies are armed with blazing pyrotechnics and over-the-top action sequences, Captain America: The First Avenger leads with its old-fashioned charm. It's a pity that isn't quite enough to get the job done. This latest Marvel entry is a self-consciously square piece of entertainment set amidst World War II, and although the film has a decent amount of heart its retro appeal can't compensate for what is otherwise a rather ordinary comic book film.
The movie's square-jawed heroism extends to the acting, which often is intentionally one-dimensional to evoke the black-and-white moral simplicity of old serials.
Opening July 22 in the US before quickly expanding across the planet over the next month, Captain America may have to contend with superhero fatigue at the box office. (Indeed, this is the fourth major comic book offering in less than three months.) Audiences may remember star Chris Evans from the Fantastic Four films, but Captain America's period setting and decidedly hokey approach may make it less of a must-see summer event.
However, with a supporting cast that includes Tommy Lee Jones and Stanley Tucci – not to mention a less violent aesthetic than its peers – this Paramount release might be the one superhero movie that lures older moviegoers.
In New York in the early 1940s, pipsqueak patriot Steve Rogers (Evans) wants to join the army to fight the Nazis, but his feeble frame keeps getting him rejected by recruiters. But he attracts the interest of a government scientist (Tucci) who wants to test an experimental drug on him that will enhance his physique and metabolism. Soon, Rogers is a muscular, powerful soldier trying to defeat Red Skull (Hugo Weaving), a megalomaniacal Nazi who has cut ties with Hitler to form his own army, HYDRA.
Much like this May's Thor, another Marvel property, Captain America shows a certain amount of courage by embracing a knowingly corny brand of humour. In response to the hip, dark origin stories laid out in other comic book movies, Captain America has a certain sweetness to it, whether it's Rogers' unpretentious backstory or his puppy-dog flirtation with Hayley Atwell's prim British officer.
Twenty years ago, director Joe Johnston made another period action movie, The Rocketeer, and like that film Captain America is draped in a playful nostalgia that's almost proudly amiable and dopey.
The problem with such a technique, however, is that once Johnston dramatises Rogers' transformation from wimp to hero, Captain America doesn't have the narrative ingenuity or dynamic characters to maintain its momentum.
Beyond his iconic stars-and-stripes shield and physical skills, Captain America simply isn't that compelling of a character, and so the action set pieces tend to be rather mundane, the exception being an early chase scene that at one point involves a submarine. Likewise, the film's villain is a rather ordinary take-over-the-world baddie who isn't give enough screen time with Captain America to really produce much in the way of stakes.
The movie's square-jawed heroism extends to the acting, which often is intentionally one-dimensional to evoke the black-and-white moral simplicity of old serials. But since Christopher Markus and Stephen McFeely's screenplay isn't consistently witty, the cast comes across as a bit drab. Evans lacks the boyish swagger that he usually brings to the screen, while Atwell has a foxy spunk that isn't utilised nearly enough. Still, Tucci has good fun with an arch German accent, and (as a grumpy commanding officer) Jones delivers his cranky one-liners with relish.
As for the film's visuals, the effects are all solidly professional, particularly the work done to make the normally buff Evans look emaciated early on by digitally placing his head onto another person's body. The 3D does little to enhance the experience, though, with the image noticeably darker because of the tinted glasses. Captain America's disposition may be bright and sunny, but it's weighed down by its muddy look.
Production company: Marvel Studios
Domestic distribution: Paramount Pictures, www.paramount.com, and Marvel Entertainment, www.marvel.com
Producer: Kevin Feige
Executive producers: Louis D'Esposito, Joe Johnston, Nigel Gostelow, Alan Fine, Stan Lee, David Maisel
Screenplay: Christopher Markus & Stephen McFeely
Cinematography: Shelly Johnson
Production designer: Rich Heinrichs
Editors: Jeffrey Ford, Robert Dalva
Music: Alan Silvestri
Website: http://captainamerica.marvel.com/
Main cast: Chris Evans, Tommy Lee Jones, Hugo Weaving, Hayley Atwell, Sebastian Stan, Dominic Cooper, Toby Jones, Neal McDonough, Derek Luke, Stanley Tucci