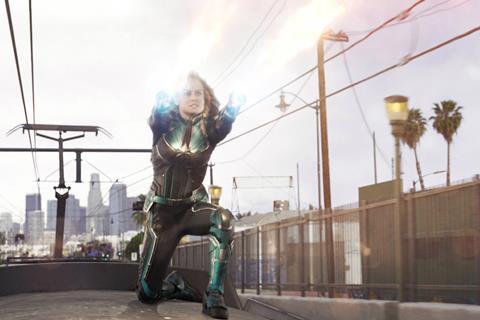 MARCH 13 UPDATE: Captain Marvel has crossed $100m in China and surged to $524.1m worldwide with $550m the target by the end of Wednesday (13).
The Marvel Studios/ Disney tentpole added $34.1m from global box office on Tuesday, and boosted the international running total by $19.5m to stand at $345.2m. The Brie Larson superhero adaptation has reached $179m in North America.
China has generated $100.1m, while South Korea is on $26.4m, the UK $19.6m, Brazil $15.9m, and Mexico $14.7m.
Thus far, Australia has contributed $12.7m, Indonesia $12.5m, Russia $12m, France $10.2m, Germany $9m, India $8.5m, and Thailand $7.3m.
EARLIER REPORT: Captain Marvel will cross $500m worldwide on Tuesday (12), Disney sources said.
The Brie Larson starring vehicle took global box office by storm at the weekend in a record-breaking $456.7m launch, and pushed the aggregated grosses of Marvel Studios' 21 films past $18bn on Monday (11).
The film generated an additional $33.3m worldwide on Monday to reach $490m. The tentpole added $22.4m internationally for $325.6m, and $10.9m in North America for a $164.3m running total.
China is the top market on $95m by the end of Monday, followed by South Korea on $25.3m, the UK on $18.1m, Brazil on $14.7m, Mexico on $13.7m, and Australia on $12m.
Other highlights to date include fast-rising Asian powerhouse Indonesia on $11.8m, Russia on $11.3m, France on $9.6m, Germany on $8.4m, India on $7.7m, and Thailand on $7m.
Captain Marvel launches in its final market, Japan, on March 15.